New Mass Effect: no FPS cap on PC, optimized for NVIDIA?
BioWare's most ambitious Mass Effect game will run at an uncapped frame rate on PC, and may be specifically designed to leverage NVIDIA hardware.

Published Fri, Dec 30 2016 2:15 PM CST
|
Updated Tue, Nov 3 2020 11:57 AM CST
Good news, PC gamers! BioWare's massive open-universe space exploration RPG Mass Effect: Andromeda will have an unlocked frame rate on PC, and the game itself may be optimized to leverage NVIDIA's latest GeForce GTX 10-series video cards, and possibly the upcoming GeForce GTX 1080 Ti.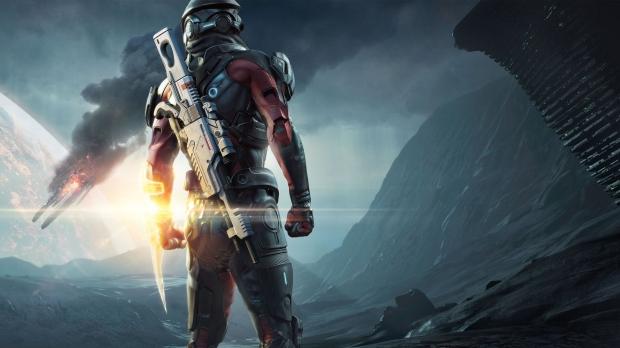 In an era where PC game ports often ship broken and barely tap the full potential of high-end hardware, it appears BioWare is aiming for the stars with Mass Effect: Andromeda's PC support. We previously reported that the new Mass Effect would run at 30FPS+ on PC, but we didn't know if there was a cap. Now it's official: there is no cap for ME: Andromeda on PC, and the game will also support 21:9 UltraWide displays on day one.
According to Kotaku Australia, BioWare producer Mike Gamble also said that the devs were "targeting day one drivers out for Andromeda," but who will get the drivers: Team Red or Team Green?
Gamble says the studio has been working alongside "some manufacturers" to ensure day-one driver support, but didn't say which GPU-maker would get the honors.
"Gamble also provided a few details about how Andromeda would play on PC. The first major one: the game will ship with an unlocked frame rate and support for ultrawide screen monitors, which should please anyone who's converted to a 21:9 world. The developer is targeting day 1 drivers out for Andromeda - Gamble didn't specifically say AMD or NVIDIA, but he said Bioware had been working with "some of the manufacturers" on a couple of things."
Luckily, we have a major clue that points to Mass Effect: Andromeda favoring NVIDIA hardware.
BioWare recently announced that new Mass Effect gameplay would be showcased during NVIDIA's CES 2017 keynote address--the same keynote where the NVIDIA GeForce GTX 1080 Ti should be unveiled.
Given BioWare will showcase Andromeda's first major PC gameplay footage at NVIDIA's CES 2017 keynote, I think it's fair to say the devs have decided to partner up with Team Green on this one.
Ready to see more Mass Effect: Andromeda environments and gameplay? Tune in to @nvidia's CES keynote next Wednesday: https://t.co/Y4C8dy5DOl pic.twitter.com/ygXYhvwtLp— Mass Effect (@masseffect) December 29, 2016
Now, this isn't to say that Mass Effect: Andromeda won't get driver support for AMD cards on day one, but I expect to see the game to leverage extra features and possibly some more performance while played on NVIDIA cards.
All of this is speculation on my part, but it seems pretty logical. We'll just have to wait until CES kicks off next week to find out for sure.
Mass Effect: Andromeda is slated to release Spring 2017 on PS4, PS4 Pro, Xbox One, Xbox One S and PC.
Related Tags