Nintendo Switch is actually pretty small
How big is the Nintendo Switch really? Here's what it looks like when held by an everyday adult.

Published Fri, Dec 9 2016 7:24 AM CST
|
Updated Tue, Nov 3 2020 11:57 AM CST
We've already reported that Nintendo's new Switch handheld-and-console hybrid rocks a 6.2-inch multi-touch 720p display, but we really haven't had much perspective on the system's actual size. That's until we saw a full grown man hold the Switch, and as you can see, it actually looks pretty small.
The Nintendo Switch showed up on The Tonight Show with Jimmy Fallon, and we got our first real good look at the hybrid handheld system out in the wild. Nintendo's promotional Switch demo announcement reel was pretty clear about its size, but Jimmy's monstrous man-hands shows us a more in-depth look at the Switch's scale--especially when handled by adults.
This perspective is very important. While I wouldn't say the Switch is tiny to the point where we should be concerned--it mostly looks like an all-round good fit for on-the-go gaming--it's important for people to understand size and scale specifics. While Nintendo has said the Switch is a "home console first and foremost," it's pretty much sized as a portable handheld.
Read Also: Nintendo Switch switches to full 1080p while docked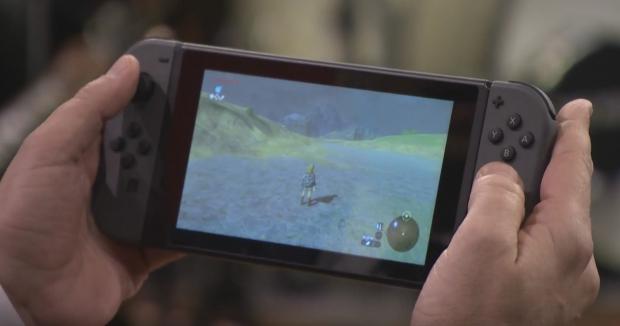 Another key thing we learned from the quick demo is that the Switch is actually very thin and svelte: it's flat like a smartphone. Remember that the Switch is powered a heavily customized next-gen Pascal-grade Tegra processor from NVIDIA, so the Switch is able to meet specific thin form factors while retaining graphics power and power efficiency.
NVIDIA's Pascal-grade Tegra hardware will allow the Switch to play "console-grade gaming" while on the go, but the handheld (aka the "Switch console") only has a 720p screen. When docked in its USB Type-C powered dock, the Switch switches its output resolution to full 1080p, allowing for HD gaming in a traditional console environment.
Read Also: Nintendo Switch handheld delivers console-quality gaming
The Nintendo Switch is slated to release in March 2017, and while no pricing has been confirmed so far, we expect the console-handheld to be available in a $249 "basic" SKU and a $299 "deluxe" SKU.
Nintendo will reveal full details, including pricing, launch lineup, accessories and much more during a special event in Japan on January 12.
Read Also: Nintendo Switch to have Gamecube Virtual Console games
Check below for a massive catalog of information and coverage about the new Nintendo Switch.
Everything we know about Nintendo Switch so far:
Related Tags