Resident Evil 7's campaign takes 14-16 hours to beat
Capcom's latest return to pure Resident Evil horror will last for a good chunk of time, taking up to 16 hours (or more) to beat.

Published Fri, Dec 2 2016 8:31 AM CST
|
Updated Tue, Nov 3 2020 11:57 AM CST
Capcom's horrifying cannibal-laden Resident Evil 7: Biohazard will take up to 16 hours to beat,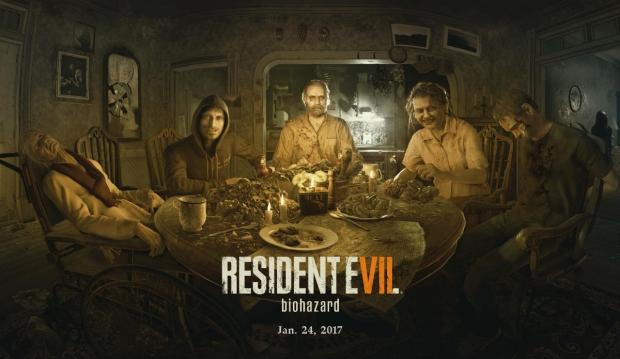 With Resident Evil 7, Capcom is returning to their roots of pure horror. The game will be startling and ultra-creepy with unsettling atmospherics from P.T., but it will also be an "ideal image" reflection of the beloved first chapter of the landmark horror series.
Since Resident Evil 7 is one of the first games to have full PlayStation VR support, gamers were worried about its actual length. But Spanish games site HobbyConsolas reveals that Resident Evil 7 will have between 14 and 16 hours of actual gameplay--more depending on how you solve specific puzzles and unearth collectibles.
Read Also: Resident Evil 7 producer: combat is 'really important'
"It almost feels like this time around we were able to achieve the ideal image of what Resident Evil 1 could be," game director Koshi Nakanishi told Eurogamer in a recent interview.
"Given that you have all these photo-realistic environments and you're able to traverse through them with a first-person perspective, having that level of immersion, with all the latest technology, it was kind of cool to be able to be like, here's that very, very original concept from the very beginning, and we're able to take that vision and really apply".
Read Also: Resident Evil 7 first in the series to support 4K, HDR
NeoGAF user DuskGolem translated a few more tidbits from the publication's hands-on preview:
The Spanish magazine played the first three hours of RE7, all the screens and info we have from this are from the first three hours of the game.

The last name of Ethan and Mia is Winters, so Ethan Winters and Mia Winters.

The beginning area of the game is set at the Baker Plantation and 'around it'. Some 'around' locations include a trailer and a greenhouse.

They say those who expect this to not feel like Resident Evil will probably be pleasently surprised, it oozes with charm of the series and has a number of moments that may make old-time fans nostalgic.

Bugs have a big presence in a certain segment of the game involving the knife, they tease.

The keys of the Baker Family Estate are animal shaped and themed. Lots of going through previous areas and unlocking new areas.

Apparently references to all entries of the series is huge, there's nods to everything from the original to RE6. You might be surprised how clever some of them are, and the magazine says while they can't say what they are, some of them are glorious. (Personal note: I'm assuming they played this up since this is the 20th anniversary RE game.)

There is a section where you need a crank to work a bridge.

Apparently saving at cassettes is manual om Normal difficulty up, EXCEPT for boss fights where they give you an auto-save when they show up on Normal (but not Madhouse difficulty). On Madhouse you can only save when you have cassettes.

Game is said to be around 14-16 hours long.

Mention that the old woman Camille will sometimes be heard or you see her shadow coming towards you, you turn around and there's nothing there.
Resident Evil 7 releases on January 24, 2017 on PS4, Xbox One, PSVR, PS4 Pro, Xbox One S and PC. Check below for a few creepy and haunting trailers of the game in action.
Related Tags