It appears that Apple's new $2399 MacBook Pro may have some sort of hardware fault, with quite a few users reporting similar video and screen tearing/flickering issues that could be linked to the ultrabook's Radeon Pro discrete GPUs.
The issues seem to be affecting the latest 15-inch MacBook Pro models outfitted with a dedicated GPU from AMD's new Radeon Pro 400 Series, suggesting that a faulty graphics card could be the culprit. Many frustrated Apple users have been sharing their horror stories on the MacRumor Forums, and some aren't even able to use their MacBook Pros without visual issues.
The glitches appear to be widespread in the initial first wave of MacBook Pros, with Radeon Pro 450 and Radeon Pro 460 users reporting what appear to be symptoms of video card failure--artifacts, distorted colors, flickering and tearing. Bear in mind that the Radeon Pro 460 MacBook Pros cost a staggering $4,099, so at that price you'd expect everything to be in tip-top shape.
To illustrate how widespread the problems may actually be, 9 to 5 Mac ran a poll asking MacBook Pro owners if they're having problems--a whopping 47%, or 713 users, said they had problems with their 15-inch Radeon Pro 460-powered MacBook Pros.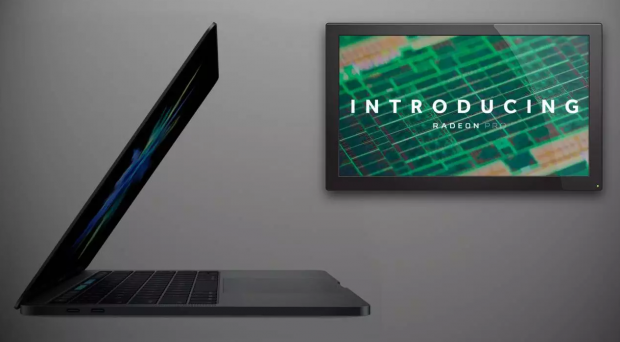 Despite the evidence, we can't be exactly sure what's causing the problem. Some users say the screen glitches out while running Adobe apps like Premiere Pro, especially with Adobe Media Encoder. Some suggest it could be a driver fault, whereas others are pretty sure its the dGPU.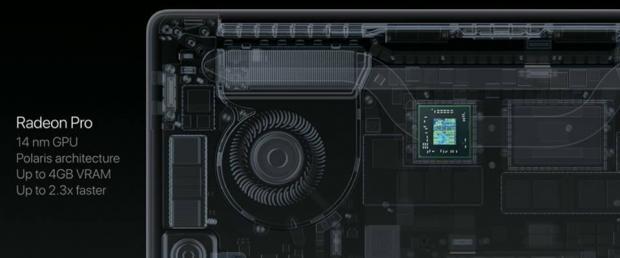 On the other hand, an Apple Store technician apparently told one affected user that it sounded like a hardware problem.
"I put my new MBP to work right away and edited a project in Premiere Pro.

"When I used the Adobe Media Encoder the graphics card freaked out and computer crashed.

"I went to the Apple Store and they said it's probably a hardware problem. So I ordered a new one.

"I kept the MPB I have now because when I switched over to FCPX everything seems to be working fine.

"But the technician said I shouldn't trust it after I showed him the video of it freaking out.

"I have the Radeon Pro 460 with 4GB memory"
One MacBook Pro owner apparently found an exact trigger for the glitch, which seems to happen when a specific process maxes out the onboard Radeon Pro GPU.
"I was letting Photos do its thing syncing 13k images, and all of a sudden the whole system locked up and was flashing violently with red/green hues and a sort of checkerboard pattern.

"For me the panics occur when the upload process runs and "ImageConversionService" maxes out the GPU.

"All the .gpurestart and kernel panic logs in Console point to an interaction between "com.apple.photos.ImageConversionService" and the discrete video card."
This actually isn't the first time that this has happened, and Apple's dGPU MacBook Pros have a long history with serious video problems.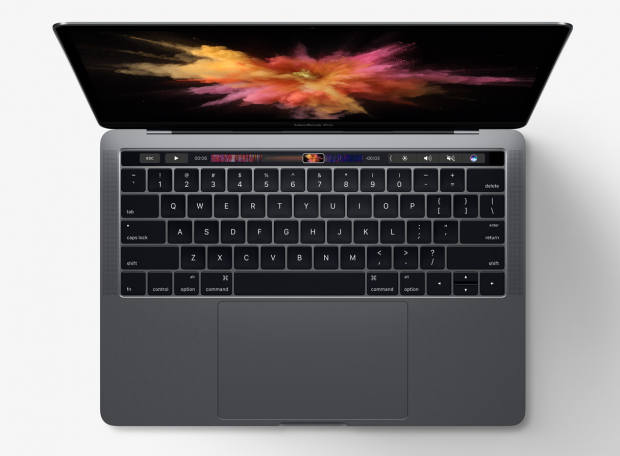 It'll be interesting to see how Apple officially responds to this apparent outbreak, but with these kinds of prices, it's absolutely unacceptable that this is happening at all.
I'm sure that the affected users will be taken care of eventually, but it's still extremely disappointing realizing you spent $2300 or $4000 on a lemon.