NSFW - Ubisoft apologizes for Watch Dogs 2 nude NPCs
Watch Dogs 2's NPCs are surprisingly human, going so far as to run around completely nude. Ubisoft plans to fix this with a patch, however.

Published Wed, Nov 16 2016 11:18 AM CST
|
Updated Tue, Nov 3 2020 11:57 AM CST
The NPCs in Watch Dogs 2 are flamboyant, dynamic, and free...well, maybe a little too free: there's been sightings of explicitly naked male and female NPCs throughout the city that bare all.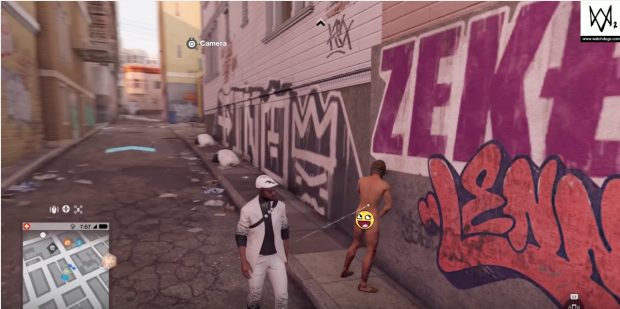 In our Watch Dogs 2 first impressions article, I commented on how impressive the game's NPCs are, and how the AI makes you feel like you're in a living, breathing world. The characters are actually so realistic that they'll do hilariously human things like run around naked after a drunken night out, or even exercise in the nude. Sometimes, ladies will even walk around with crotchless panties on...and Ubisoft didn't censor their naughty bits out.
Ubisoft has since apologized for this oversight, and vows that explicit genitalia will be patched out despite the game being rated as M for Mature.
"We're aware that one of the NPC models in Watch Dogs 2 is rendered in a way that is particularly explicit.

"While Watch Dogs 2 is a mature-rated game, we apologize and will update this NPC model to make it more consistent with other NPC models in the game in a patch to be released this week.

"We also are working with our first-party partners to ensure that players can continue to play and share all content from the game within the bounds of the first parties' respective codes of conduct."
While most of the population finds this funny and humorous rather than shocking, what's not so funny is that many PS4 gamers are getting their PlayStation Network accounts suspended for sharing the videos and pictures. Sharing vulgar or sexually explicit images with the PS4 Share feature is against the PSN code of conduct, and many gamers are finding this out the hard way by getting hit with one month suspensions.
So if you want to share this kind of thing, be sure to do it the old-fashioned way with USB sticks.
Related Tags