Final Fantasy XV has gone gold, will have online co-op
Final Fantasy 15 is now completely finished, and Square Enix announces four-player online co-op to boot.

Published Thu, Oct 27 2016 10:28 PM CDT
|
Updated Tue, Nov 3 2020 11:57 AM CST
After a decade of waiting, Final Fantasy 15 has gone gold and is completely finished and ready to be shipped off to millions of gamers.
Final Fantasy 15 has gone from barely running at 30FPS on consoles to a competent and polished build known as the "final master version." Square Enix has proudly proclaimed the game has gone gold, meaning the main game is totally wrapped up.
But that's not it; Square Enix also revealed that the huge open-world adventure will allow four friends to team up for some online co-op. The co-op mode will be available following the game's release on November 29, and is one of the six DLC packs that are included in the $25 season pass. The co-op mode allows four players to take the roles of Noctis, Ignis, Gladiolus and Prompto and take part in in-game battle sequences.
"Director Tabata-san is talking about DLC for FFXV and has confirmed that online multiplayer is coming!" the official FF15 Twitter said. "Not only will there be online multiplayer but also episodes that focus on Gladio, Ignis & Prompto & they will all be playable in the DLC."
"The #FFXV DLC will add brand new gameplay styles & experiences to the game so we hope you'll look forward to lots of exciting things to come."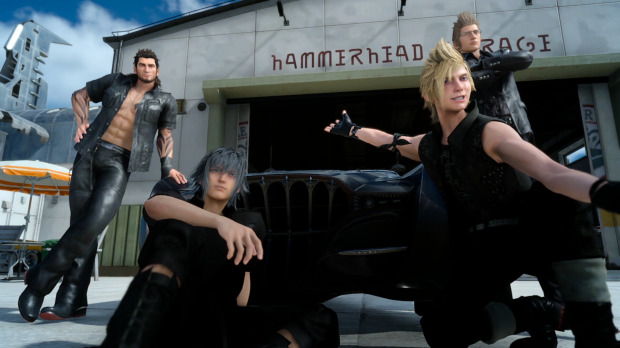 The official Square Enix Twitter also says that the remaining DLC will feature three separate episodes focused on Noctis' party members.
"The main focus of the #FFXV DLC are 3 original episodes that revolve around Noctis' BFFs."
Read Also:Final Fantasy 15 takes 200 hours to completely beat
First big news at #FFXVPGW - FINAL FANTASY XV HAS OFFICIALLY GONE GOLD!

— Final Fantasy XV (@FFXVEN) October 27, 2016
This is pretty awesome news considering just yesterday we reported on the possibility of FF15 co-op play. Tabata had originally said that adding co-op would take a lot of work, but they'd add it in if enough people wanted it.
It turns out that gamers really wanted it, so they obliged!
"[Final Fantasy XV] was developed as a single-player experience. If people really want something like that we can definitely consider. It's very tough to convert a single-player game that was designed as such to a multiplayer game. Even though the possibilities aren't 0% it's complicated, let's not discard it for the future," Tabata told Hobby Consoles.
Now that the game has gone gold on PS4 and Xbox One, maybe Square Enix will tackle the FF15 PC port? Just don't expect it any time soon.
Final Fantasy 15 launches on November 29, 2016 on PS4 and Xbox One.
Related Tags