Iron Tides is a Final Fantasy Tactics Viking roguelite
Iron Tides is what happens when Vikings meet FTL, Final Fantasy Tactics and Fire Emblem.

Published Sat, Oct 22 2016 10:20 PM CDT
|
Updated Tue, Nov 3 2020 11:58 AM CST
Love roguelites and/or board games? Always wanted to see a Final Fantasy Tactics game with Vikings? Enjoy a bout of Chess here and there? You'll want to check out Iron Tides, an interesting looking indie that wraps up all of these themes and more.
Iron Tides is a promising looking indie that features a nice mashup of traditional game mechanics including roguelike, survival, and turn-based tactical strategy.
The indie has a Norse theme, and revolves around players exploring an endless sea in search of plunder, battles, and, of course, resources like food to survive. The combat looks pretty interesting and borrows from Final Fantasy Tactics' grid turn-based fighting system, as well as a unique character upgrade system with randomly generated class customizations.
Iron Tides has a Kickstarter campaign, so if you like what you see, check it out--you can also try out the game via a pre-release demo.
"Throughout your adventure into the seas, you will be tested in tactical thinking and strategy. The Iron Tides is a survival game designed to challenge your mind. You will be launched into a randomly-generated sea with limited item capacity. Some of your vikings will die -- but is your job to make sure they live to sing the tale of Norhaven's hero," reads Crash Wave Games' description of Iron Tides.
Iron Tides is being developed by Vancouver-based indie studio Crash Wave Games, and has been described favorably by fellow Vancouver-based Darkest Dungeon dev Tyler Sigman:
"Iron Tides looks like a tight blend of boardgame inspired mechanics and every playable tactics, plus the theme is great," said Darkest Dungeon studio co-founder Tyler Sigman.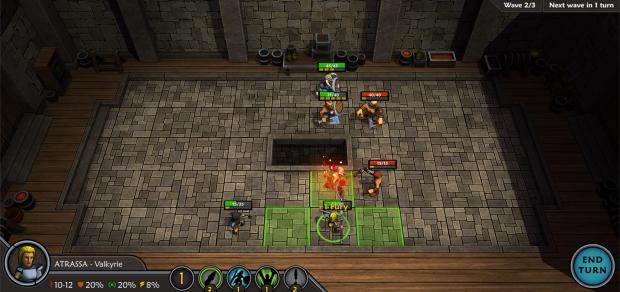 Iron Tides features include:
A World Without End: Explore a procedurally generated ocean full of danger and chance encounters. Discover hidden coves, long lost relics, and ominous temples as you venture ever further into the east. Choose your battles carefully and stay vigilant.
Viking Colonies: Discover lost viking colonies, and enjoy a brief respite from the turmoil of the sea. Resupply your hold, recruit fresh warriors and sell whatever isn't worth carrying back home.
Encounters Upon the High Seas: Explore dusty ruins, bribe corrupt enemy garrisons, and haggle with lost merchants. Build your own story through small narrative encounters. Will you rob a king's tomb and risk the wrath of the gods? Will you take the effort to plunder statues when your warriors only want food?
A Place to Call Home: After a successful voyage return to your stronghold of Norhaven. Sing songs for the fallen, purchase newly available wares, recruit new warriors, and plan the next raiding season.
No Two Vikings Exactly Alike: Each viking has four abilities. One of these is a fixed default attack, but the other three are drawn from a pool of seven abilities particular to their class. In addition, each warrior has a unique, procedurally generated upgrade path, allowing for a diverse range of possibilities.
Dead Warriors Live Only In Memory: The halls of Valhalla sing with glory as each Viking meets their end. Unfortunately for you and your crew, your lost warriors will not come back and help on the next raid.
Related Tags