Samsung 960 M.2 SSDs may use 64-layer VNAND at up to 2TB
Samsung's upcoming 960 Series M.2 NVMe SSDs likely to feature fourth-generation 64-layer VNAND at up to an awesome 2TB of capacity.

Published Tue, Sep 20 2016 11:03 AM CDT
|
Updated Tue, Nov 3 2020 11:58 AM CST
Samsung SSD Summit 2016 - They say a picture is worth a thousand words. From this picture floating around at Samsung's SSD Summit 2016 event in Seoul, South Korea, we can speculate a few things about the 960 Series M.2 NVMe SSDs that Samsung will be launching in less than 24 hours. First and most exciting is that the MLC-based 960 Pro will at some point hit the market at a massive 2TB capacity point. This is 4x the current highest selling capacity of the 950 Pro (512GB).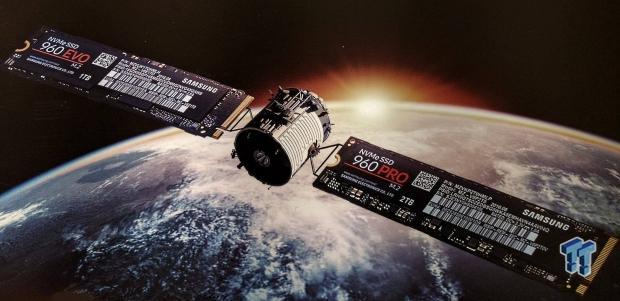 Based on the information that the photo reveals, we are speculating that the 960 Pro, at least at the 2TB capacity point, will use Samsung's fourth-generation 64-layer VNAND. Additionally, we noticed something else that points to fourth-generation 64-layer VNAND. According to the picture, the 960 Pro has a power draw of only 1 amp. This is a massive reduction in power draw in comparison to the 2.7 amps of power draw on the 950 Pro.
The 1TB 960 EVO, according to the picture, will have a power draw of 2.7 amps. Hence, we believe the 960 EVO will be based on Samsung's current third-generation 48-layer VNAND. We think that the 960 EVO will be first to market, followed sometime shortly by the 960 Pro. Both the 960 EVO and 960 Pro will be based on Samsung's Polaris controller, the same controller that we saw on the SM961 OEM drive that currently reigns supreme in terms of sequential performance of up to 3200/1800 MB/s (sequential read/ write).
At this point, we do not have confirmation of any of this, but we wanted to get it out there. Stay tuned to TweakTown for more updates from Korea as the information unfolds.
Related Tags