Sony made its PS4 Pro official yesterday, after months of teasing it as the PS4 Neo, Sony's new console whimpered onto the market without a 4K Blu-ray player, and it won't be anywhere near as fast as Microsoft's upcoming Xbox Scorpio console.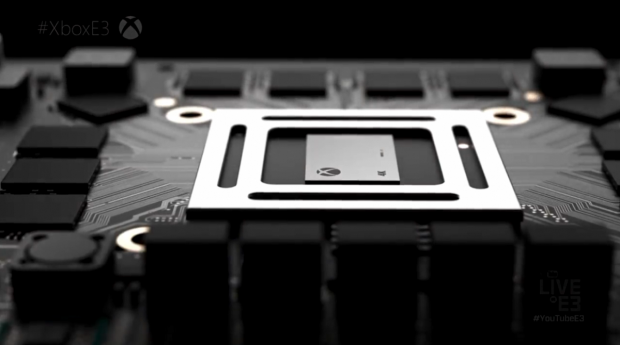 Microsoft has been on the offensive since the reveal of the PS4 Pro, tweeting that its new Xbox One S console includes a 4K Blu-ray player, but now the company has reiterated that Xbox Scorpio will be the "most powerful console ever", something it claimed when unveiling Scorpio at E3 earlier this year.
Senior Director of Product Management and Planning at Xbox, Albert Penello, chatted with IGN, where he said: "I believe that the difference between what we're going to deliver with Scorpio from a performance perspective and PS4 Pro will be obvious to customers. I believe we have the best value this holiday, and I think we're going to have the most powerful box next year".
Penello continued, adding: "I think for $299 the Xbox One S with 4K Blu-Ray, with HDR, with the upgraded controller with Bluetooth, and the new design, I think we've got a killer product that beats their PS4 Slim on the low-end. I think that for people who care about the absolute maximum in performance, we said at E3 we're going to be launching the most powerful console ever made. That is still true".
Microsoft is now "more confident" than ever with its Xbox Scorpio against Sony's new PS4 Pro, with Penello saying: "We were very confident when we made the announcement. It was kind of a bold thing to say, given the rumors that were out there. And I'm more confident today that we're going to have the most powerful console ever made".
The upcoming Xbox Scorpio will be capable of 4K gaming thanks to its 6 TFLOPs of performance, compared to the 4.2 TFLOPs of performance on the PS4 Pro. When it comes to the technical prowess of Scorpio, Penello said: "More and more, developers are having to build content for multiple devices. Making that easier for developers means you get better quality games for customers. So I think it is part of our vision to make it easier for developers to make console and PC games. When you look at our specs for Scorpio at 6 teraflops, our goal was to deliver true 4K games, the same kind of quality you see on PC, available on Xbox. That was our design goal for Scorpio".
Even though Penello is a self-confessed "console guy", he understands that PC gamers want that "great upgradability, customizability experience that they've always had. So I think it's important to respect both platforms while you go through this story".
Microsoft will unleash Xbox Scorpio in Holiday 2017.
Xbox One Scorpio confirmed specs:
6 TFLOPs of performance

320GB per second memory bandwith

8CPU Cores
Everything we know so far about Project Scorpio: