PS4 Neo priced at $450, says inside source
Sony's new 'hardcore' 4K-ready PS4 Neo's price tag could start at $450.

Published Thu, Sep 1 2016 1:19 PM CDT
|
Updated Tue, Nov 3 2020 11:58 AM CST
Sony's new higher-end 4K-ready PlayStation 4 "Neo" will cost $450 says a source inside the console's manufacturing facility.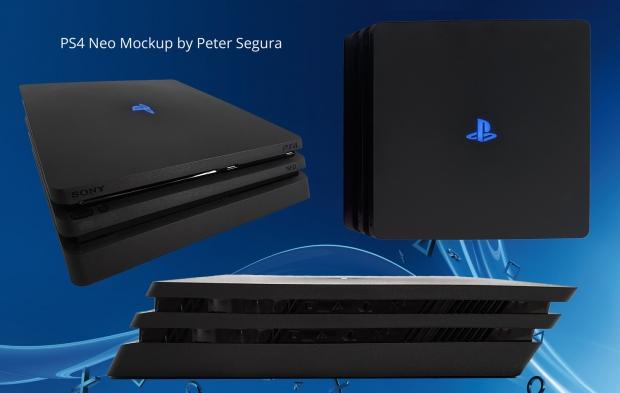 Remember that Foxconn worker who sketched what Sony's PS4 "Neo" console looks like? After the sketches went viral, that same source is now back with even more potential info on one of the PS4K's most important aspects: cost. The employee says that the new upgraded PS4 will run 3,000 Chinese Yeun which equates to $450 USD, falling in line with accidentally-revealed Amazon console price listings.
Atul Goyal, managing director at investment banking firm Jefferies & Company, predicts that Sony's new PS4 "Neo" will cost $399. In Sony's official PS4K confirmation interview, Sony Interactive Entertainment President Andrew House said that the new "hardcore" PS4 would be "more expensive than the current $350 version."
However $50 doesn't seem enough of a cost bump to make a profit, especially give the requisite hardware in order to achieve the console's targeted performance specs, which include upscaled 4K gaming, native 1080p 60FPS, and enhanced PlayStation VR support.
According to alleged leaks, Sony's PS4 "Neo" sports a customized AMD Polaris GPU derived from the Polaris 10 Ellesmere chip used in AMD's Radeon RX 480 graphics cards, which run as low as $249. Of course Sony's high-end PS4 won't use a dedicated desktop-grade video card, so we can't equate this price (or the desktop card's performance) with the GPU used in the console--it's just a rough ballpark figure to give you an idea of how much the tech costs.
Sony will also have to tighten up and optimize other console hardware features, as well as design new optimum cooling features to accommodate the extra heat generated from 4K-ready components.
But why should we believe this leak ontop of all the others? Well, for one, Foxconn actually is manufacturing the new PlayStation 4. Foxconn is a Taiwanese manufacturing facility that makes pretty much all games consoles and a ton of other gadgets including handhelds and mobile phones. So if a worker says they know what a console looks like, there's a high probability they're right. But also remember to take this info with the proverbial salt-shaker.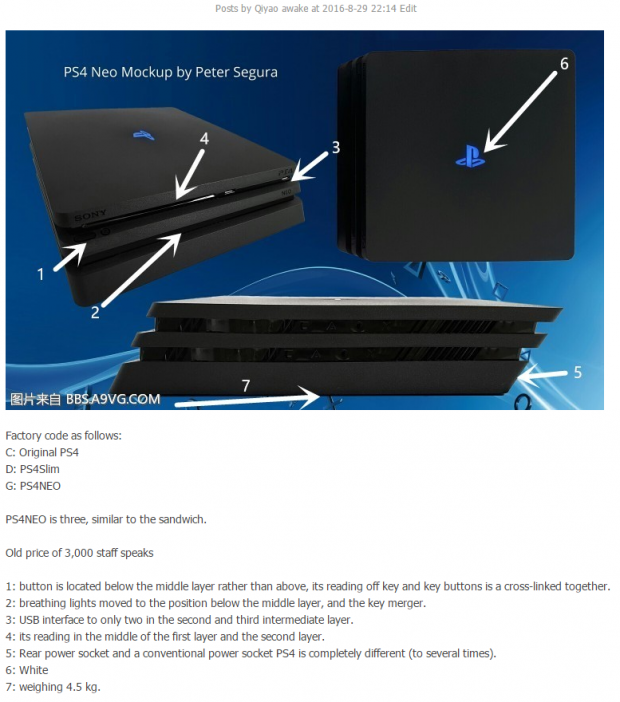 In other PS4K news, the Foxconn worker also took the time to reveal new more console features and correct many mistakes made on mockups inspired from the console sketches. The PS4 "Neo" will have three different tiers "like a sandwich," says the worker, likely to help with heat dissipation. The console also weighs about 4.5kg (10 pounds), sports two USB ports in different crenellations, has a white PlayStation logo that possibly fluxes with color, a different kind of power plug, and a new arrangement of pulsing lights.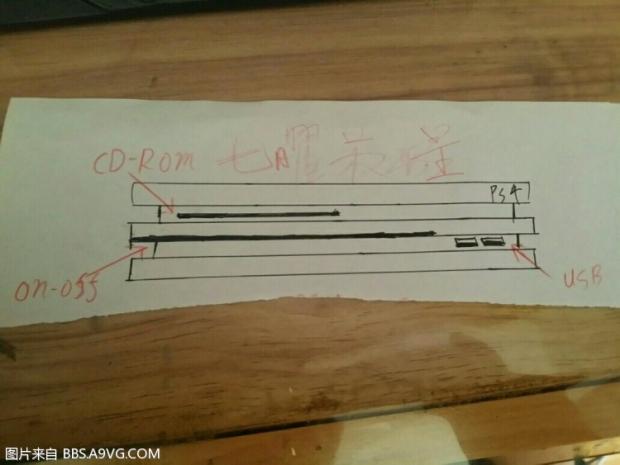 Sony will unveil its new higher-end PlayStation 4 during a special PlayStation Meeting event on September 7 that kicks off at 3PM EST.
Check below for a massive list of everything we know about the PlayStation 4 "Neo" so far, but remember that most of this info is based on rumors, speculation, reports and possible leaks and hasn't been officially verified: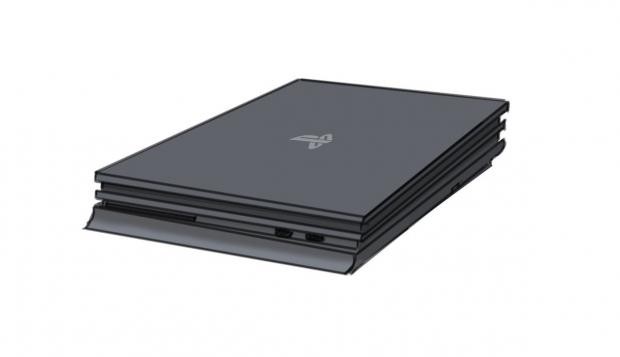 Everything we know so far about the PlayStation 4K:
Original PS4
CPU: 8 Jaguar Cores at 1.6GHz
GPU: AMD GCN, 18 CUs at 800MHz (equivalent to Radeon HD 7850)
Memory: 8 GB GDDR5, 176 GB/s
PS4 NEO / PS4K
CPU: 8 Jaguar Cores at 2.1GHz
GPU: Improved AMD GCN, 36 CUs at 911MHz (possibly built on heavily customized Polaris10 Ellesmere?)
Memory: 8 GB GDDR5, 218 GB/s
Related Tags