Lenovo has launched its new Thinkpad X1 Yoga laptop, which features a beautiful OLED touchscreen, with the OLED screen "truly a thing of wonder", Engadget writes.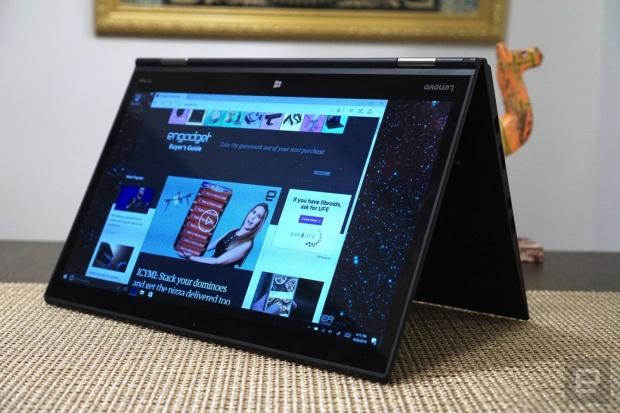 The new Thinkpad X1 Yoga features a 14-inch OLED touchscreen with a native resolution of 2560x1440, with Lenovo using premium materials on the new OLED-based laptop. It weighs just 2.8 pounds and is 0.67 inches thin, keeping it line with other Ultrabooks in its class. Lenovo still includes 3 x USB 3.0 ports, HDMI, and miniDisplayPort connectivity, back up by a microSD card slot and even a fingerprint scanner.
The OLED display can be rotated a full 360 degrees into tablet mode, with the physical keyboard recessed behind the display. This is what has made previous Yoga devices from Lenovo so popular, as they are very individual - and can be used virtually anywhere.
Engadget has had some hands-on time with Lenovo's new Thinkpad X1 Yoga and have said that "X1 Yoga's OLED display doesn't waste any time impressing you. The red border around Lenovo's logo has an almost electric feel upon boot-up, and that carries over to everything in Windows. OLED displays are known for their bold colors and deep black levels, and this one doesn't disappoint. Watching videos and perusing photos is a revelatory experience. OLED adds an enormous amount of depth to images that makes them seem almost three-dimensional".
Lenovo's new Thinkpad X1 Yoga starts at $1682 with the OLED display, but you can pay $1400 if you want to drop down to an LCD panel. Engadget's full review is a great read, with it pretty much convincing me that the X1 Yoga is my next purchase, unless something trumps it in the next month or so.