You've got to hand it to AMD, they have been having a great past 12 months or so, riding the success of their new Polaris architecture, and the tease of Zen has investors pleased. So much so, that AMD stock has increased by a massive 330% in the last year, rising another 8% today on the back of the positive news of Zen from IDF 2016.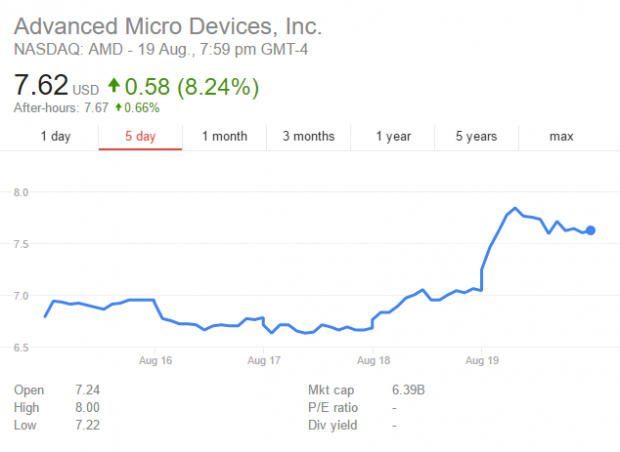 AMD has had a few years of financial grief, but it looks like the company is getting past this, returning to profitability in Q2 and should hopefully continue that with the sales of the Radeon RX 480, RX 470 and RX 460 throughout the rest of 2016, and into 2017. But the last week has been all about Zen, AMD's next-gen CPU architecture, which has been impressing us for quite a while now. AMD's new Zen architecture looks to have the company on an even playing field with Intel once again, who has had a monopoly on the market for what feels like forever.
Zen won't see the light of day for consumers and gamers until early 2017, but it will be delivering a 40% improvement of IPC (Instructions Per Clock), which is beyond impressive for something that has probably only reached testing phases now. AMD will continue to improve its Zen craft, with next-gen motherboards also featuring new connectivity like M.2 SSD support, USB Type-C and support for the likes of DDR4 RAM, and more.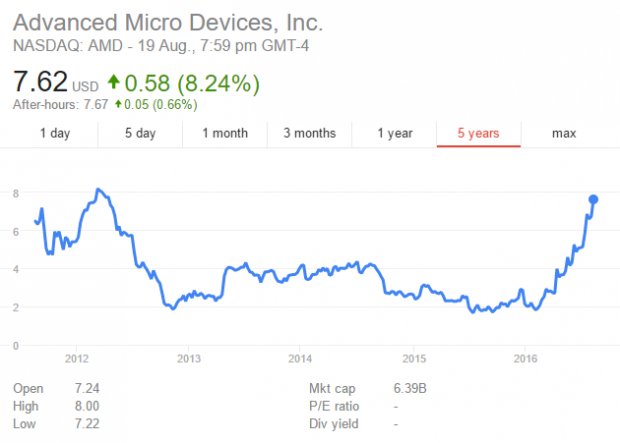 Looking deeper into AMD's financials over the years, here we have a 5-year look at AMD stock. You can see that it really did bottom out throughout 2015, even after the launch of their exciting HBM1-powered Radeon R9 Fury X graphics card, powered by the new Fiji architecture. Looking back to 2012, AMD was hitting $8 per share - where the company finds itself today.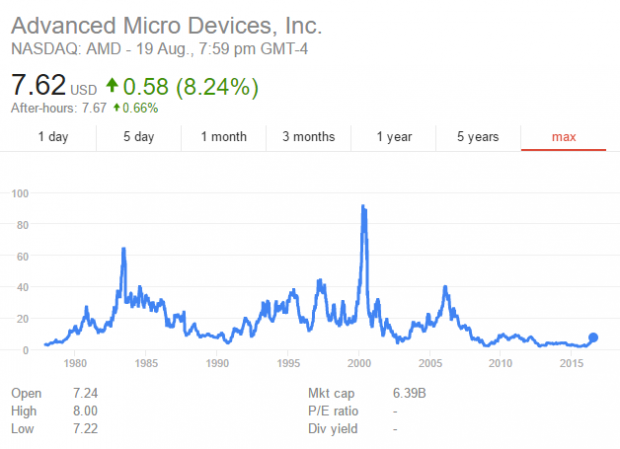 Rewinding all the way back to the 80s, we can see that AMD rode quite the wave back in the day - and I remember that wave fondly. In the 90s the company was fighting Intel in multiple races, with the K6 architecture jogging some serious memories for me. AMD was the first to market with a dual-core CPU, something that really did do an Apple and change everything for PC users. I fondly remember building my new AMD Athlon X2 3800+ system at the time, and it blowing my mind that I could do multiple things at once.
You can see that in 2000-2001 the company hit a major high, with close to $100 per share (nearly 10x where they are now) which was before the huge $5.4 billion acquisition of ATI in 2006. Since then, it hasn't quite gotten its footing, but things are turning around with Zen, Polaris, the next-gen Vega architecture and then the GPU architecture after that - Na'vi, will be even better again.
It's a great time to be an AMD fan!