Prey gets new psychologically creepy gameplay trailer
Arkane launches a surreal, cerebral and just plain creepy gameplay trailer for their new re-imagined Prey game.
Published Aug 4, 2016 7:23 PM CDT
|
Updated Tue, Nov 3 2020 11:59 AM CST
1 minute & 49 seconds read time
Bethesda has launched a new gameplay trailer for Arkane's new re-imagined Prey game, and boy is it creepy.
The new Prey game isn't what you think it is: it's not a reboot, it's not a sequel. It's a total re-imagining of the series from the minds that brought us Dishonored. It's still technically an FPS, but this time around the game takes on a more cerebral bent; Arkane wants to get inside your head and make you question your own identity. I mean listen to the opening line: "I keep having this dream. I'm staring at the black between the stars. There's something there. I know there is. I can't see it, but it sees me. It sees...everything." Just...creepy.
"Prey is not a sequel, it's not a remake, it has no tie with the original. You have to look at it as a re-imagining of the IP," says Raphael Colantonio, president of Arkane Studios and creative director of Prey. "Prey isn't just about shooting aliens. It's more of a hybrid game where narratives mix with action and a little bit of an RPG layer. So you have some weapons, but you have lots of other things too, including powers you can learn from the aliens themselves.
But Prey isn't horror. Not really--it's more of a psychological thriller. "It's not horror. The psychological thrill dimension is morphed around the theme of identity. You know, who are you exactly as Morgan Yu," Colantonio said.
The game will, of course, retain its first-person shooter element and have intense action battles, as the trailer shows. A lot of our weapons will be science equipment that's been converted into lethal makeshift weapons, and you'll actually get powers from the aliens. I like to think that your powers come from you being infected by the dark creatures, and the more you use your powers, the more your identity slowly erases and the corruption of the alien virus spreads. Use it too much and you just blink out altogether, and become a ferocious shadowy alien monstrosity.
I really like that idea, and I hope to see it implemented.
Prey launches sometime in 2017 on PS4 and Xbox One, with a PC release likely. Check below for the E3 2016 reveal trailer, and the footage where Arkane Studios' president discusses what the new Prey actually is.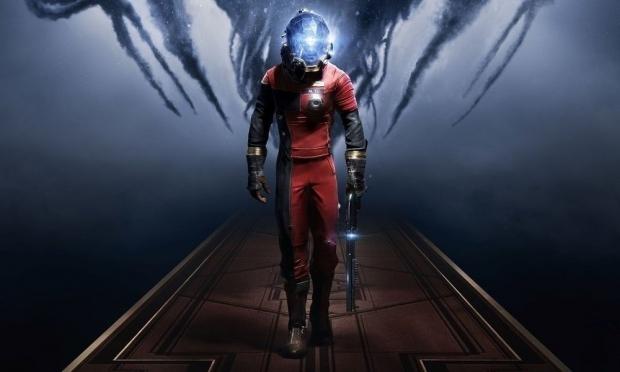 Related Tags