Hello Games is readying a patch update to fix No Man's Sky's most notorious glitches and wipe away all those pesky bugs outed by the leaked footage.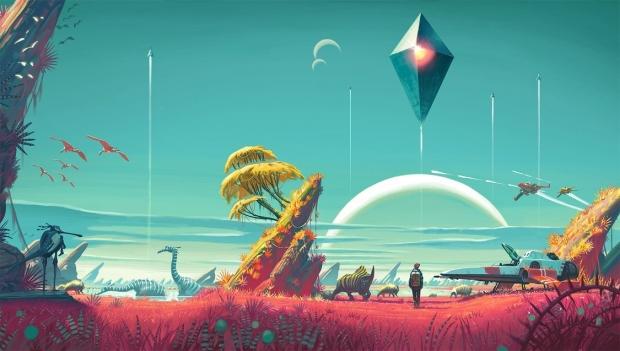 We've been keeping a close eye on all the leaked No Man's Sky footage that's been trickling onto the web, critiquing our worries and making note of bugs, glitches, and rather worrisome mechanics. The information shown in the leaks has fractured the No Man's Sky fanbase, and for good reason--using Atlas Stones, a gamer was able to reach the center of the universe in less than two days time. There's also some other pretty serious in-game bugs that hint No Man's Sky wasn't entirely finished when it went gold.
As I suspected, these leakers are playing the unfinished, unpatched version of No Man's Sky, and it won't be the version we get on August 9. Sean Murray has just confirmed that Hello Games is finalizing the game's first update which will likely be deployed as the coveted day one update, wiping the slate clean and making all the leaked content particularly moot.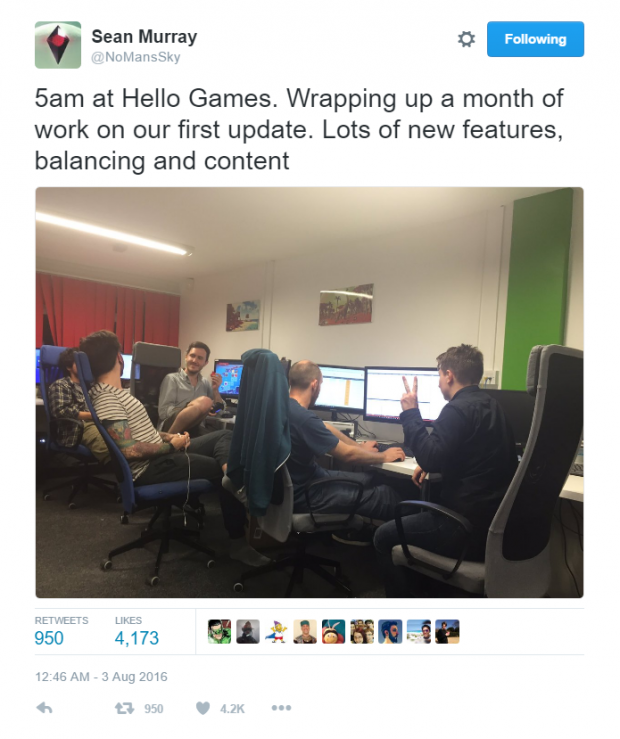 Now we know why Murray insisted we didn't pay too much attention to the leaked footage: it doesn't reflect the final version we'll all be playing next week. Hello Games has been working on the day one patch since No Man's Sky went gold back in July, and now it's finally almost ready.
So in short, don't believe the leaks too much. A day one patch is coming and it'll likely fix everything. Hype thrusters engaged!
Here's some of the major bugs that we can expect to be fixed, optimized, or addressed:
"There are bugs. Quite a few in fact. In some moments I really start to feel as if this game would have benefited from a beta test. PRAY for a Day 1 patch, not only to nerf the sale cost of Atlas Stones but also to address some of this too."
The following bullet points use quotes from Daymeeuhn's complaints with the game, which can be found here.
Beam Upgrades are broken - Currently, Beam Upgrades for your multi tool seem broken and ass backwards. Upgrades that are supposed to slow down the heat up of your beam, actually speed it up. Upgrades that are supposed to speed up the mining speed of the beam, actually slow it down. Essentially, your STARTING beam is as powerful as it can be, and if you upgrade it with +1 +2 +3 beam upgrade modules it becomes UNUSABLE. This would, in theory, mean that the fully upgraded beam is actually the beam you're supposed to START with, which would mean my early exploration would have gone a LOT slower.
Problems with large sea creatures - Sea creatures spawn in shallow water completely vertical stuck in the ground. This isn't like a one time bug thing either, 80% of the large sea creatures have spawned this way, which is a super bummer for me because sea creatures are my favorite and I can't even appropriately scan them or even naked eye view them when this happens.
PS4 crashing - I've had the game full on crash to PS4 menu something like 20 times now. Usually when I'm warp jumping. No joke. Save your game a lot kids, you'll be pissed if you don't.
Lack of ship upgrades - Again, not finding ship upgrades has been super frustrating. Is it a bug? Is the game not spawning better ship module inventories like it's supposed to? Are we actually just supposed to have ships with 1/4th the total inventory of our suit? What gives HG, c'mon.
Ships don't improve even with upgrades, are for cosmetic purposes? - I've "upgraded" my suit to unlock all available inventory slots possible. I've found and bought what I "think" is a multi tool with the maximum amount of slots available in the game. However, ships HAVE NOT IMPROVED AT ALL throughout the entire course of the game. This is not a joke. I am at the point now where my PERSONAL SUIT has something like 3-4x the total inventory / module slots as my fuckin ship. That seems wrong to me.
Game doesn't get 'weirder' the farther you venture towards the center - Another gripe I have right now with the claims on the game before release is this whole "it gets weirder the closer to the middle you get." If you're like me, you expected some seriously obvious inclinations that this was happening as you progressed, and for me... I haven't seen much in the way of difference as I went. The ONLY ONLY ONLY big difference, and honestly the only reason I pushed it so hard, was the weapon crates you saw in the Trade video with the guns for trade improve in quality as you go further in. So, for me, my basic logic was... the sooner I get to the area at the middle, the sooner I have the best multi tool, so why wait?