Samsung's new Galaxy Note 7 arrives August 19, features iris sensor
Samsung makes its Galaxy Note 7 smartphone official, available on August 19.
Published
2 minutes & 38 seconds read time
Samsung has officially launched its new Galaxy Note 7 smartphone, skipping the Note 6 to realign its phablet-sized handset with the company's super-popular Galaxy S7 and Galaxy S7 edge smartphones.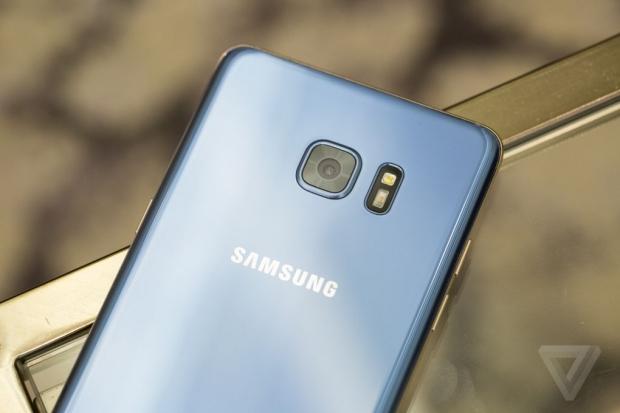 The new Galaxy Note 7 will be available from all four of the major US carriers on August 19, with pre-orders opening up tomorrow. The pricing on the Galaxy Note 7 will be higher than the Galaxy S7 edge, which sits at just under $800 right now. Inside, the Galaxy Note 7 is barely different to the Galaxy S7, with the same Qualcomm Snapdragon 820 processor in the US, Chinese and Japanese handsets - other markets will feature Samsung's own Exynos processor.
It also has 4GB of RAM, the same 12-megapixel rear-facing camera with f/1.7 lens and OIS, is IP68 water-resistant, support for microSD cards, and 64GB of internal storage. The battery on the Galaxy Note 7 is a 3500mAh battery, up from the 3000mAh one used in the Galaxy Note 5 smartphone.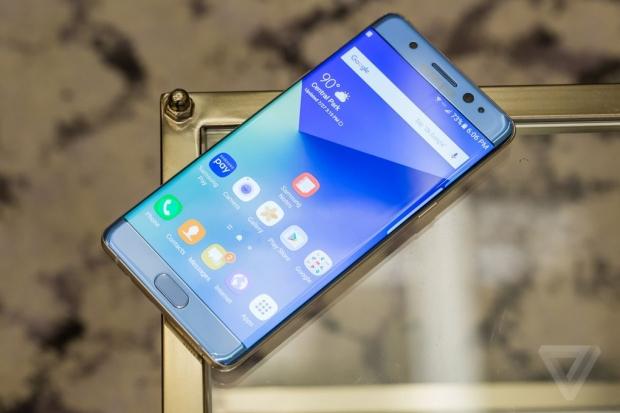 Samsung's new Galaxy Note 7 smartphone features 5.7-inch dual-curved Super AMOLED display with a native resolution of 2560x1440. The dual-curved screen is a first for the Galaxy Note range, with Samsung noting that it allows the Galaxy Note 7 to be 2.2mm narrower than its predecessor, while having the same 5.7-inch display size.
The curvature of the display itself is different to that of the Galaxy S7 edge, which allowed Samsung to provide a more flat surface area, while the rear glass panel has an identical curve to the front, making the entire smartphone more symmetrical than the Galaxy S7 edge. Samsung has also used Corning's new Gorilla Glass 5 that will - hopefully - keep your smartphone safe(r). The Galaxy Note 7 also rocks USB Type-C charging, which is a first for Samsung, and very exciting to see.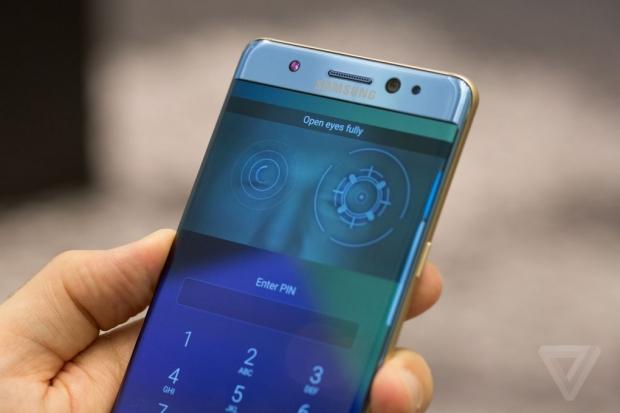 If the new Galaxy Note 7 is so similar to the Galaxy S7 edge, why would you buy it? Well, it does rock a new iris scanner that joins the fingerprint scanning family that allows you to unlock your new Galaxy Note 7 smartphone... with your eyes. Samsung says that the iris scanner is more secure than a fingerprint scanner, and while I haven't used one yet, I would tend to agree. Except I don't want someone pulling my eyeball out to get into my secure phone - cut my finger off instead, please.
Better yet, the new iris scanner can be used to lock certain apps, photos, notes and other contents inside of an even more secure folder - something that is separate to the rest of the data on your Galaxy Note 7.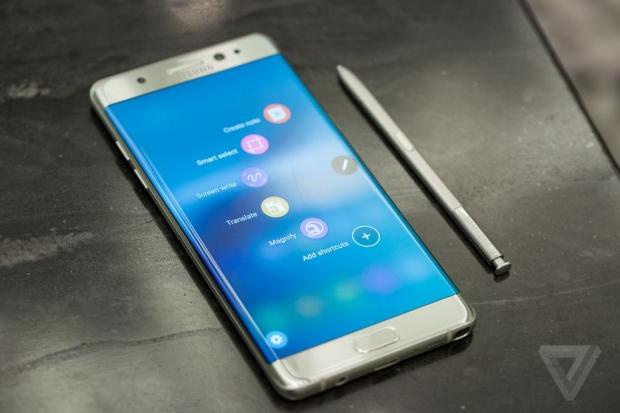 Of course, like previous Galaxy Note smartphones, the new Galaxy Note 7 rocks Samsung's S Pen active stylus. Samsung has upgraded the S Pen on the Galaxy Note 7, which is now water resistant, has a finer point, and twice as fine pressure sensitivity (up to 4096 levels, compared to earlier models with 2048). The S Pen includes new software features like a magnifying loupe, quick text tranlation tool, and a new tool that makes creating GIFs from any video that's playing, easier than ever before.
Samsung has also updated its software interface on the Galaxy Note 7, where The Verge reports it has a "cleaner color palette, softer white menus, and an overall nicer-looking aesthetic". However, Samsung is launching its latest and greatest Galaxy Note 7 smartphone with Android 6.0, adding that it will be providing an update to Android 7.0 in the future, but hasn't provided an ETA on that.
Samsung's new Galaxy Note 7 will be available in three colors in the US, including black, silver and a unique blue that Samsung likes to call "Blue Coral". A gold version will be made available in the international markets, and Samsung is sweetening the deal offering Galaxy Note 7 customers a free 256GB microSD card or Gear Fit 2 when they purchase their Note 7 smartphone.
Related Tags