The release of NVIDIA's next-gen Titan X is right around the corner, with some leaked 3DMark results to whet our appetite before it launches on August 2. There aren't many samples being sent to reviewers, where I personally do not have a card - but I will be trying!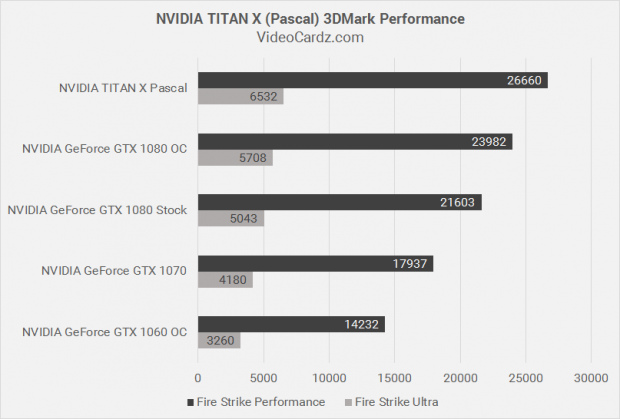 Now we're within a day of the launch, leaked 3DMark results are here to tease the performance of the Pascal-based Titan X graphics card. VideoCardz got its hands-on some 3DMark results, running the Fire Strike Performance and Fire Strike Ultra runs of 3DMark with some bloody impressive results.
The new Titan X scores 26,660 in 1080p run of Fire Strike versus the 21,603 from the GeForce GTX 1080 - an increase of 23%. In the 4K run of Fire Strike, the new Pascal-based Titan X beats the GeForce GTX 1080 by 29% - with the Titan X scoring 6532 against the GTX 1080 with 5043.
NVIDIA's next-gen Titan X goes on sale tomorrow for $1200, with some monster performance behind the price. But with the GTX 1070 holding its own, two of them in SLI would be quite the powerhouse, even against the monstrous performance of the new Titan X.