Watch 26 minutes of leaked No Man's Sky footage
Remember that guy who spent $1,250 on an early copy of No Man's Sky? He's leaked a few gameplay videos, and here's one of them.

Published Sat, Jul 30 2016 1:48 AM CDT
|
Updated Tue, Nov 3 2020 11:59 AM CST
Spoiler Warning: If you don't want to potentially ruin your first run of No Man's Sky and keep everything fresh, steer clear of this post! Remember that guy who spent $1,250 on an early copy of No Man's Sky? Well he's just posted up a proof video, and now he's uploading freshly leaked gameplay footage to show us exactly what Hello Games' massively anticipate space sim has to offer.
No Man's Sky leaker Daymeeuhn is simultaneously loved and hated in the gaming world right now: he's loved for sharing an unbiased and unfiltered look at Hello Games' infinite procedural space sim, but he's also hated for spoiling things. To be fair, though, Daymeeuhn is just showing us an approximate look at the first 26 minutes of the game, and honestly the footage is a lot of stuff we've already seen.
The footage shows us that No Man's Sky will be a very grindy type of game. Gamers apparently start off on foot and have to explore, grind, and survive in harsh environments. The clip really shows a new dimension of No Man's Sky that isn't necessarily depicted in the other play sessions--the raw, grind-oriented face of the game that blends survival, crafting, ingenuity and exploration.
After posting up leaked gameplay footage, Daymeeuhn has decided to put an end to the leaks. Here's what he said in a lengthy reddit post:
"Alright fellow travelers, I'm editing this post up. First, I realize spoilers aren't for everyone. Originally, I hadn't even really planned on posting videos. There was a lot of hype for it, I caved, and I posted some. They have, of course, already been taken down, which was expected. And the response from most was positive, but of course there were also many that weren't exactly pleased. I'll say this - spoilers will come, one way or another. It may not be from me, but it will be from someone. But I wish no one ill will - I just wanted to share the discovery with you all. That being said, this is quickly becoming an unpleasant experience for me."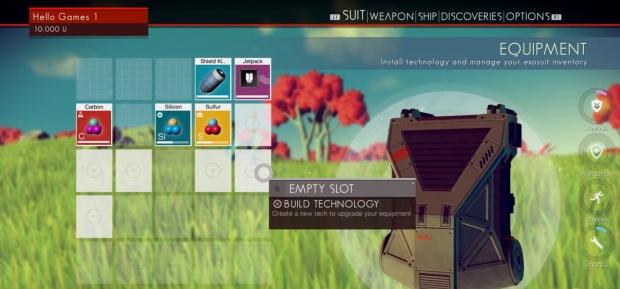 Daymeeuhn goes on to say that he doesn't want his quotes to be taken out of context, and cites gamesites like Polygon for misrepresenting his words.
"People are taking some of the comments I made, especially the long one about my justification for why I bought it in the first place, and quoting it somewhat out of context. I feel like the entire message works as a whole, and not as pieces, and when Polygon posts only a piece of it as "my quote on the subject," it's kind of annoying. Friends and family only see that one part and think that's all there is to it, and there really is more to it. I mean, whatever it's the press, that's what they do, but it's just not something I enjoy seeing."
Daymeeuhn concludes by saying No Man's Sky is absolutely huge and it'd be very hard to spoil everything even in a ton of videos.
"Second, there are more spoilers than you probably realize with this game. I'm only a couple hours in, barely touched a few planets and already I've had many FUCK YEAH moments. In the one hand, I'd love to share those with you - but in the other hand, Sean is right... why not just wait and experience them first hand?"
Hello Games boss Sean Murray has spoken out about the leaks, urging users not to dig into the leaks and spoil the game for themselves.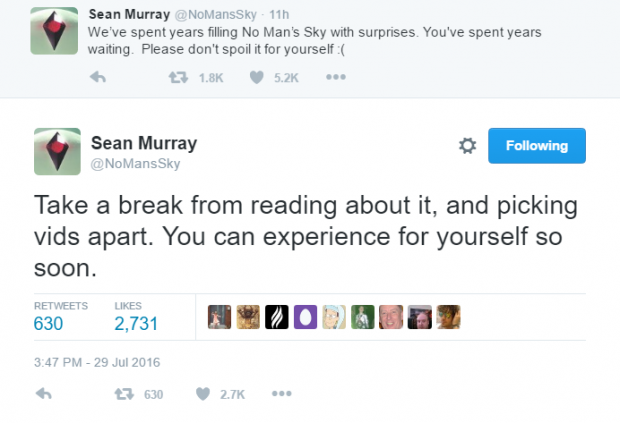 Interesting enough it looks like No Man's Sky's Reddit mods might start censoring discussions on the leaked footage. The mods even asked Sean Murray how he felt about closing all discussions about leaks, and here's what he said about the matter: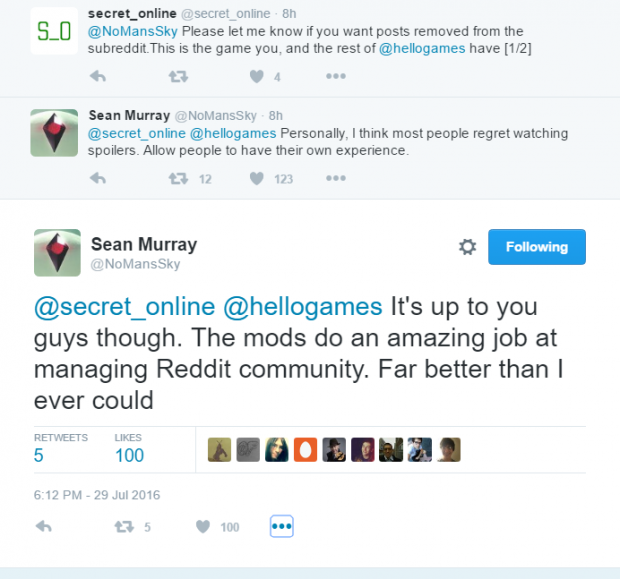 This early copy of No Man's Sky has actually been passed around now by a bunch of owners. The previous owner that sold it to Daymeeuhn for $1,250 shared some of his impressions in a brief checklist, but didn't publish any spoilers or footage.
Don't expect mind-blowing graphics out the box

Don't expect to take off flying when the game starts. Must put in work first

Game was extremely smooth. No frame rate issues at all

Expect to possibly not fire up another game for a while. I could tell in my short time that this game is gonna destroy some relationships and happy homes.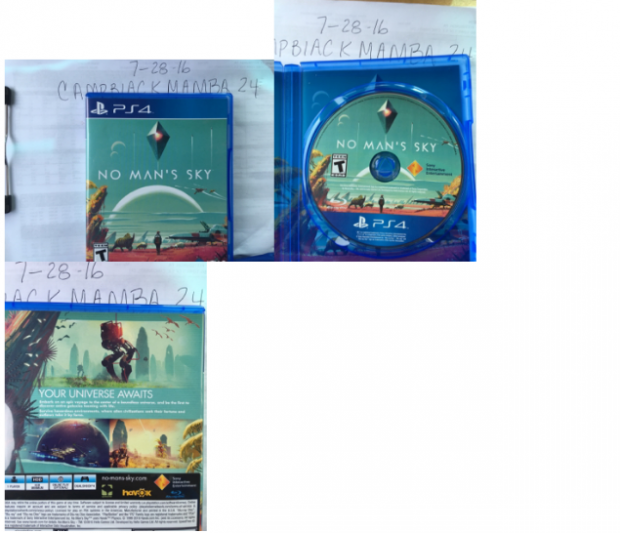 Gamers are busily extracting, analyzing, and picking apart all the info and footage shown off by Daymeeuhn, but ultimately Hello Games has done a good job in showing us what to expect from the game. We here at TweakTown have done our part with a massive list of everything you can do in the game, further highlighting what No Man's Sky has to offer.
No Man's Sky releases in just weeks on August 9, 2016 on PS4, with the PC version coming three days later on August 12.
Related Tags