No Man's Sky doesn't use patented Superformula, says dev
No Man's Sky doesn't infringe on any patents, and likely won't be delayed according to Hello Games boss Sean Murray.

Published Sat, Jul 23 2016 5:10 PM CDT
|
Updated Tue, Nov 3 2020 11:59 AM CST
No Man's Sky creator and Hello Games lead developer Sean Murray has officially responded to Genicap's patent infringement claims, affirming that the near-infinite space sim doesn't use the patented Gielis Superformula and even calls the issue a "non-story."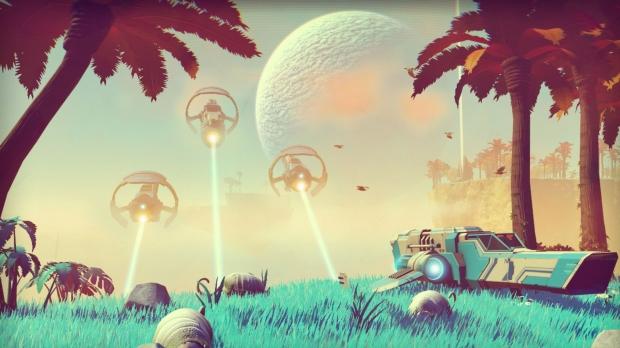 "No Man's Sky doesn't actually use this 'superformula' thing or infringe a patent. This is a non-story... everybody chill," Murray said in a recent Tweet. Murray goes on to say that he will personally meet with Johan Gielis, the Superformula's creator, and discuss "maths" once the game is out. So it sounds like Hello Games won't have to delay No Man's Sky nor settle yet another costly court case after all.
As per our original report, Dutch company Genicap has accused Hello Games of patent infringement. Genicap claims that the studio uses its patented Gielis Superformula to create No Man's Sky's massive procedurally-generated universe without authorization. Genicap typically issues out licenses for clients to use its Superformula technology, and Hello Games isn't officially licensed. Now Sean Murray says that the game doesn't actually use the Gielis Superformula, but his recent words seem to clash with a New Yorker interview.
However when we read on, we realize that the Gielis Superformula caused quite a bit of complications, hinting that No Man's Sky might not have been built on it after all.
"Even a feature as simple as the Superformula-a hundred and twenty lines of code-created complications when it was written into the terrain-generation system. When I asked Murray how it was working, he told me, "It's cool, though it currently plays hell with creature A.I." He was spending as much time as he could coding, but distractions were hard to block."
So it seems like Murray experimented with the Gielis Superformula in some way, but it's unclear how much of the game may be based on it--and according to Murray, none of the final game uses the Superformula. Murray hasn't explicitly said anything about a delay, but he does tell us to "chill," so the game is likely still on for its August 9 release date on PS4 and PC.
The Know has an excellent rundown of the situation which you can find below:
Related Tags