For the first time ever, TweakTown is attending NerdHQ - which is a geek-a-thon that runs alongside Comic-Con and is powered by AMD and a bunch of other partners like Alienware and... Kelloggs, which were handing out... cereal, to gamers. Yeah, I'm not joking - and it was kind of cool.
Anyway, today I got some hands-on time with Battlefield 1 on the PC, which is something I've been itching for since DICE announced it not so long ago. I was playing on an Alienware Area 51 gaming PC that was powered by the AMD Radeon R9 Fury X, with a 2560x1440 monitor running at 144Hz. I was super critical on the resolution and detail settings of Battlefield 1, but DICE hid the graphics menu away from the public - so I don't know what setting it was running at.
From what I gathered, it was running at High settings because it looked gorgeous - and it ran buttery smooth on the Radeon R9 Fury X. Some of you might think "why wouldn't AMD run Battlefield 1 on the new Radeon RX 480", but the RX 480 is a mid-range graphics card, while the HBM1-based Radeon R9 Fury X is still a high-end/enthusiast level graphics card capable of handling 1440p at 144FPS in most games.
Graphics wise, Battlefield 1 looked gorgeous, but I've already seen that in videos all over YouTube, so I wanted to check out the personal touches that I wanted to see - such as the improved destruction. The destruction is something that was so watered down in the last few Battlefield games, as it was something I truly loved in Battlefield: Bad Company 2 - but in BF3 and more so in BF4, it was so toned down.
Battlefield 1 is a return to form, and some - with amazing environmental destruction and effects. I jumped onto one of the huge cannons in the game and began firing gigantic shells into the buildings that were hundreds of feet away, concentrating the shells into the corner of the houses.
The shell would hit the corner, and cause destruction that was far more realistic than the games out today - as it would crumble the exact corner that the shell hit. It wouldn't crumble near it, or next to it - but the exact point that I hit. I began firing more shells into the roof of every building in sight, watching the giant holes begin to appear realistically - which is great to see.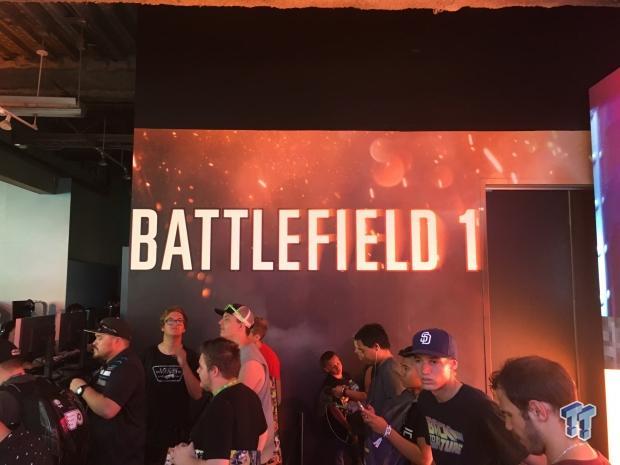 It was even to the point where I could shoot into the top of a building twice, once to the left and once to the right, causing the middle to cave in from the pressure. It was beyond impressive, and while it doesn't sound like much - when you're in the middle of a game and a cannon is shooting the roof above you while you're in the building, it's going to make the game feel much more realistic than a plastic shooter like Call of Duty.
Overall, my 5 minutes or so on Battlefield 1 left me hanging for more. I can't wait for the full game to be released, and it's great to see AMD throwing its back behind BF1, especially with the release of the Radeon RX 480 - which will enable more gamers than ever before to play the game on higher detail settings. Maybe not at 1440p and High/Ultra settings, but 1080p 60FPS shouldn't be too hard for the new Polaris 10-based Radeon RX 480.
I'll be going back in the morning to play some more Battlefield 1, so if there's anything you want me to try and do/see in the game, let me know in the comments below and I'll jump to it first thing.