Hideo Kojima says that his partnership with Sony will ultimately allow him to make Death Stranding his "best work yet."
Now that Hideo Kojima is working with Sony, the beloved Metal Gear Solid creator is enjoying a staggering amount of freedom he never experienced under Konami's restrictive reign. Thanks to Sony's hospitality, and Mark Cerny's openness with the secrets of the PlayStation 4 console, Kojima can now let his imagination roam free without being bogged down. The fruits of this union will culminate in Kojima's new unique and original PS4 game Death Stranding; in fact, Kojima said that he's "very confident this will be my best work," and Death Stranding could surpass his magnum opus MGS series.
"So far, when I've been making games, I've had to give up on something or at least compromise on something in order to get things done," Hideo Kojima said in a keynote speech at the Brighton Develop conference in the UK. "But this time, working with you [Mark Cerny and Sony] and you bringing the state of the art technologies, we will get around that. I'm very confident that we're working towards something completely new and that no-one has seen so far. This will be my best work so far, I'm very confident about that."
Bear in mind that Kojima has yet to select an official game engine for Death Stranding--Konami still owns the Fox Engine used on Metal Gear Solid V: The Phantom Pain--and he's already extremely confident in the project. While Death Stranding certainly delivered an enigmatic trailer, Kojima has opened up quite a bit about the game since its E3 reveal.
According to the dev, Death Stranding will technically be an action game, but it won't fit into established genres, promising to deliver "something different, something that won't fit in established terms."
But how exactly will Death Stranding be so unique? It all comes down to using ropes instead of sticks.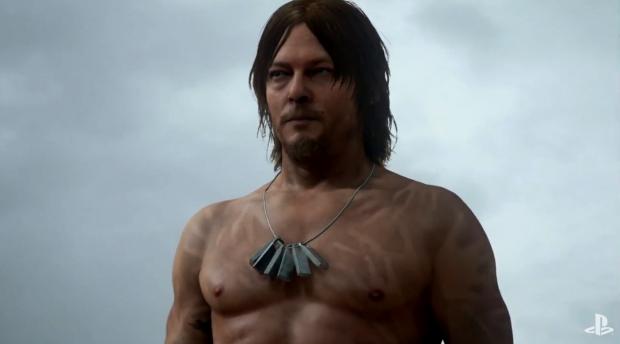 Kojima delivers an interesting metaphor to explain Death Stranding's mechanics. Most games use "sticks," as in tools or weapons to push others away from you. Death Stranding will use "ropes" to pull others towards you and bind together forming one.
"A strand in psychology is often used to refer to ties or chains. So how all the crabs [in the trailer] have this weird umbilical chord and how the baby is tied to Norman [Reedus' character] is a representation of this. There's a Japanese author I am a huge fan of called Kobo Abe. He has a short novel called 'Rope' in which he makes a definition, a statement: the first tool mankind made was a stick. It was made to keep away bad things. It's a weapon.
"The next tool created by mankind was rope. The rope is not to keep away bad things. On the contrary, it's a tool used to keep good things close to you, to tie good things close to you. Sticks and ropes are some of the tools most used by mankind even these days."
Essentially Kojima wants to turn everything we know on its head and deliver something brand new. Sure we'll still be able to use "sticks," or the weapons we're used to, but Kojima affirms that "ropes" will be the main divergent point for Death Stranding.
"In most games you see that are online multiplayer or co-op - or even single player - the communication is through sticks. In this game you will be able to use what will be the equivalent of sticks. But I also want people to use what will be the equivalent of ropes."
Death Stranding won't be released any time soon, and check below for a list of everything we know about the game so far.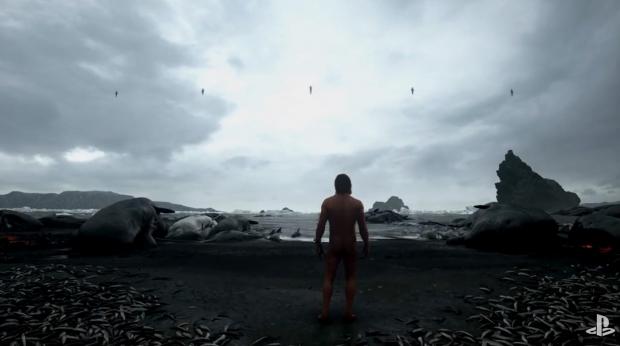 Kojima reveals tidbits about his new game
Hideo Kojima spoke with Geoff Keighley at the YouTube LIVE at E3 show about Death Stranding. Here's what he said:
The footage was for a very early cinematic sequence of the game

After 2-4 hours of playing it, Kojima says players will "realize it's something they've not used to so far"

Kojima Productions has yet to select a game engine for Death Stranding

Guillermo Del Toro is not helping Kojima with the game

It has nothing to do with PT

Death Stranding doesn't have a genre pinned down, but it will have "action elements", and players who enjoy action games will "naturally" slip into the game

Don't expect it any time soon -- it "probably will take some time", Kojima says

The name Death Stranding refers to a term used when whales and sealife are stranded ashore on coastlines to slowly die, stranded away from their homes. The term "Death Stranding" implies the lifeform is still alive upon being washed onto shore, and directly hints that Norman Reedus has been stranded onto a new world.

The game represents something that Kojima wanted to make at this point--he feels he needed to make this game