Battlefield 1 Closed Alpha invites rolling out
DICE, EA begin slow rollout of Battlefield 1 Closed Alpha invites.
Published Wed, Jun 29 2016 12:29 PM CDT
|
Updated Tue, Nov 3 2020 11:59 AM CST
The wait is over: if you signed up for Battlefield Insider, you may have your Battlefield 1 Closed Alpha invite in your inbox now, as we've received ours, as have some others. Likely the invites will be slowly rolled out, so if you don't see one yet, just keep checking over the coming days. Not everyone who signed up for Insider is necessarily guaranteed to receive one, however, so you may have to wait until beta to try the game for yourself.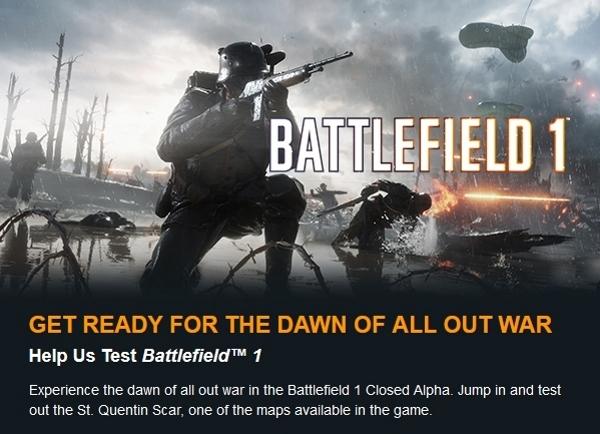 Unfortunately, the game isn't downloading for some, presumably due to the high demand, but the errors should stop once the Origin team get everything sorted.
Rumor has it console players will be able to get in on the action too, so if you don't play on PC, still keep an eye out.
We're currently attempting to clear coverage of the game with EA, as the Alpha is under NDA. Should it work out, check back for an in-depth preview soon.
Update 6/29/16: Origin support had this to say regarding download issues: "It seems that there really is quite a big network traffic since the Alpha was released. Our developers are now laying off extra bandwidth for the servers as of the moment, and I advise you to please bear with us and patiently wait for 1-2 hours once this is resolved. I assure you that within that timeframe you will be able to download the Alpha game on your account so don't worry."
Update 6/29/16:: Support is also indicating no further invites are being sent out, so if you didn't get one yet, you can stop checking.
Related Tags