GIGABYTE's GeForce GTX 1080 Xtreme Gaming teases 2.3GHz manual OC
GIGABYTE's new watercooled GTX 1080 has its GPU clocked at 1936MHz, sports a fully custom PCB and so much more.
Published
1 minute & 56 seconds read time
We've had a few of the custom GeForce GTX 1080 cards come through our labs so far, with our first review being the MSI GeForce GTX 1080 Gaming X 8G, and it being a totally silent GTX 1080 experience. Well, GIGABYTE is now teasing their upcoming GTX 1080 Xtreme Gaming video card, which will be one of the fastest GTX 1080s released yet. GIGABYTE's new beast is teasing a huge GPU overclock, right up to 2.3GHz on the GPU... which is simply amazing.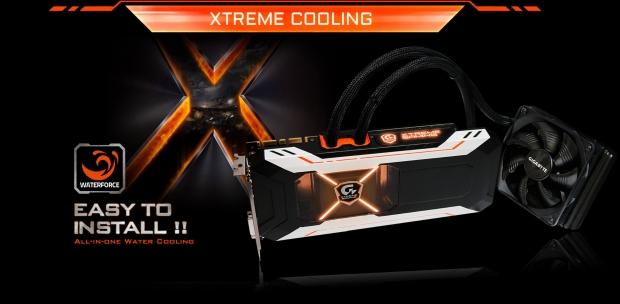 GIGABYTE has used a totally custom PCB with Titan X style chokes and capacitors, with a dust/moisture/corrosion resistant PCB coating. The company has also used a 12+2 phase VRM that makes great use of GIGABYTE's Ultra Durable class components so that the card doesn't buckle under the pressure of the extreme overclocking. But we're not even at the best part yet.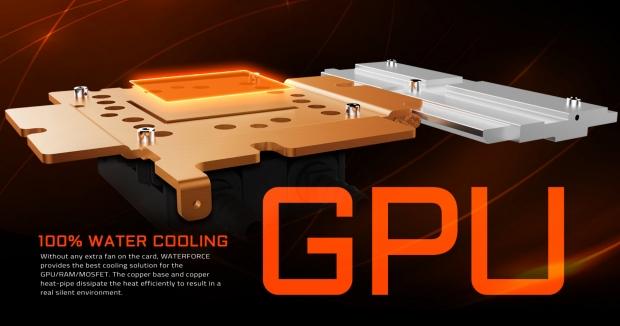 GIGABYTE's new GeForce GTX 1080 Xtreme Gaming has an AIO liquid cooler, which allows the GP104-powered GPU and its 2560 CUDA cores to be cranked all the way up to 1936MHz on Boost, out of the box. The 8GB of GDDR5X is cranked up from 10GHz to 10.4GHz, providing 333.4GB/sec of memory bandwidth over the GTX 1080 Founders Edition memory bandwidth of 320GB/sec.
As for the design of the card, GIGABYTE has deployed a gigantic cooling shroud that extends past the PCB itself, with the entire cooling shroud housing the AIO liquid block which leads to a 120mm radiator block. The company has used braided FEP tubes that provide higher thermal stability and high-pressure tolerance. GIGABYTE has used a metal backplate which also makes the back of the GTX 1080 Xtreme Gaming look great.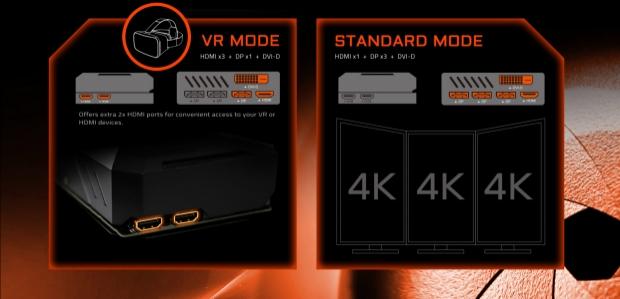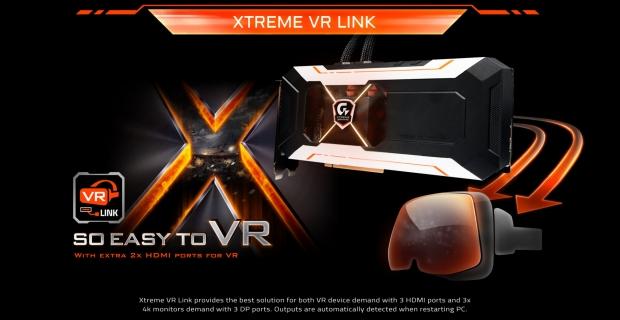 With VR being a big focus for NVIDIA and its new GeForce 10 series cards, the GIGABYTE GeForce GTX 1080 Xtreme Gaming has been designed with the best features for VR gaming. GIGABYTE has provided the usual 3 x DP 1.4, HDMI 2.0b and DVI connectors - but where GIGABYTE has decided to do things differently is in the way of two additional HDMI ports that can be used to connect a front panel VR connector, internally - just like EVGA's GeForce GTX 980 Ti VR Edition cards. GIGABYTE has support for 8K 60Hz monitors thanks to DP 1.4, too.
GIGABYTE should be pricing their GeForce GTX 1080 Xtreme Gaming at somewhere around $749, with no current availability. Considering the huge delay in GTX 1080 and GTX 1070 shipments with our exclusive article, expect the GTX 1080 Xtreme Gaming to find its way online and on shelves sometime late next month. Our sample is on the way, so prepare yourselves for our review!
Related Tags