The release of AMD's next-gen Radeon RX 480 isn't too far away, but we have no real performance data on the Polaris-based video card, until now. According to benchmarks on the 3DMark database, the RX 480 has achieved a 3DMark 11 Performance Score of 14,461 - not bad for a card worth $199.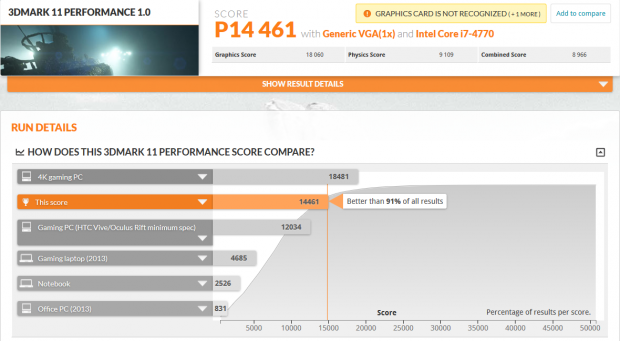 At this performance level, AMD will have no issues with the RX 480 meeting the minimum VR spec, but it'll also handle 1080p and 1440p gaming like a champion. Again, for $199 to $229, depending on whether you want the 4GB or 8GB model. With VR headset sales set to expand over the coming years, AMD is positioning itself incredibly well for consumers. Sure, the GeForce GTX 1070 and GTX 1080 kick some serious ass, but not everyone has $400-$699 to spend on a video card - but $199? That's a huge market.
We have Radeon RX 480 samples coming soon, but we can't tell you when our review will be up - but stay tuned to TweakTown for more information on Polaris very soon.