MSI wants to put a GTX 1080 in its new VR PC backpack
MSI packs in a GTX 980 and a Skylake Core i7 CPU into their VR PC backpack.

Published Mon, May 30 2016 5:13 AM CDT
|
Updated Tue, Nov 3 2020 11:59 AM CST
Computex 2016 - MSI is the latest to join the VR PC backpack craze with a new prototype model that essentially lets uses strap high-end PC hardware to their back for portable VR gaming.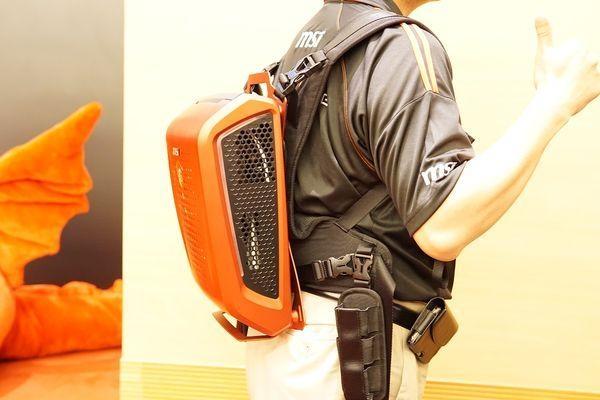 The aim of MSI's new VR backpack--and others like it--is to abolish the irksome cords that tether VR users to desktop PCs, thereby making the experience much more mobile. Now that your hardware is on your back, there's no worry about tripping over cords while wearing room-tracking HMD's like the HTC Vive. The form factor for MSI's backpack is actually smaller than mini-ITX, but it supports full desktop-grade video cards like the GTX 980. In fact, MSI plans to slot in desktop-sized NVIDIA GeForce GTX 1070 and NVIDIA's new VR powerhouse the GeForce GTX 1080 into the backpack.
MSI has yet to fully announce the VR PC backpack and the hardware is still in its early stages. The unit demoed to press was a sample, and sported an Intel Skylake Core i7 K-series processor paired up with a desktop-grade NVIDIA GTX 980. Users will also be able to swap out and upgrade hardware components like video cards and power supplies. The demo unit provided about 90 minutes of VR gaming on a single charge, but the backpack can be plugged into a wall socket to continue gaming.
Although this is an exciting prospect with tons of potential, the backpacks aren't ready just yet. MSI still has a few logistics to figure out, such as the need to power the Vive's external link box. Temperatures and heat dissipation could be an issue, too, with the backpack having a specialized cloth barrier to protect wearer's from potential high hardware temps. Another potential issue is durability. Should users slip and fall while in VR they could end up smashing some $2,000 worth of hardware.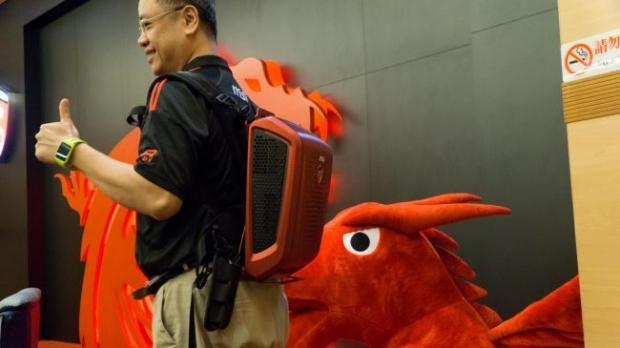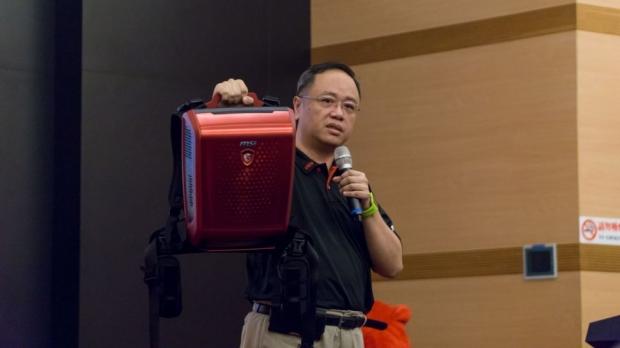 Related Tags