I'm still yet to receive my DOOM code, but I'm looking forward to playing it as it doesn't look like a steaming pile of crap like most of the shooters from 2015. Our friends over at Gamers Nexus have benchmarked id Software's new first-person shooter, with a slew of video cards and reported that the Radeon R9 390X loses out to the GeForce GTX 980 at 4K. Remember, DOOM requires 5GB+ of VRAM to run the 'Nightmare' graphics setting, too.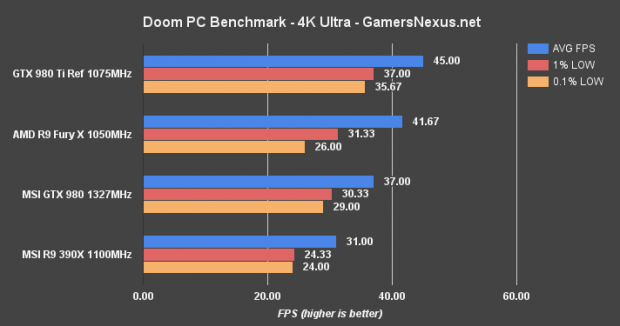 This is surprising, as the R9 390X has 8GB of GDDR5 with a much wider 512-bit memory bus, while the GTX 980 has 4GB of GDDR5 with a smaller 256-bit memory bus. The GTX 980 Ti card "maintains 45FPS" average, while the R9 Fury X was capable of 41.6FPS, even with its HBM1 technology. Knocking the resolution down to 2560x1440, the GTX 980 Ti comes out on top, with the GTX 980 coming in second place - actually beating out the Fury X at 1440p.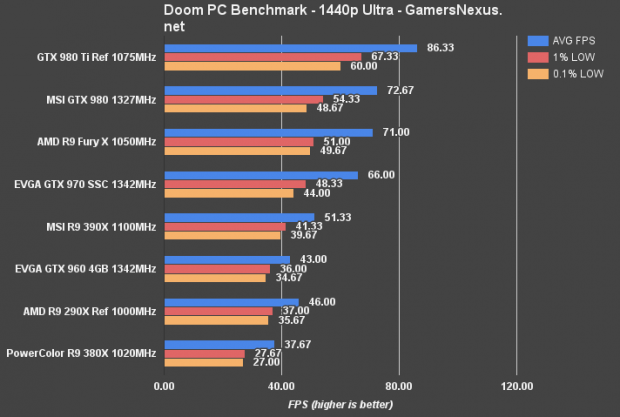 86FPS average at 1440p for the GTX 980 Ti, while the normal GTX 980 is pushing 72.6FPS average. This leaves the Fury X with 71FPS average, while the R9 390X trails way further behind with 51.3FPS average. What about 1920x1080?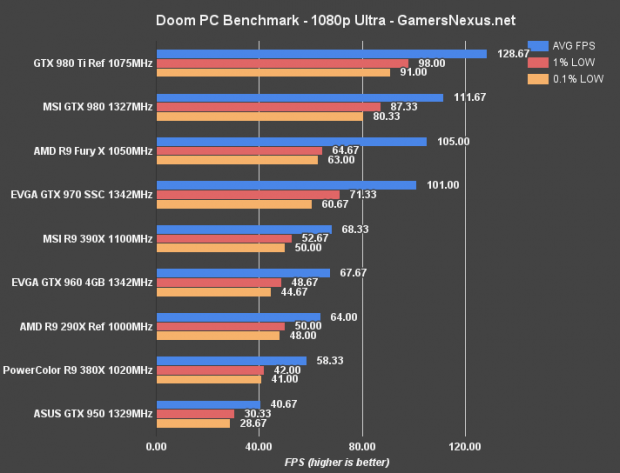 At 1080p, the GTX 980 Ti is pushing a huge 128.6FPS average, and even the GTX 980 is doing extremely well with 111.6FPS average. The Fury X? Yeah, 105FPS average - with the R9 390X falling so far behind with 68.3FPS.
We will be doing some of our own testing in the coming days, so keep an eye out - but thanks to Stephen @ Gamers Nexus for these results!