NVIDIA is expected to unveil its next-gen GeForce GTX 1080 video card in the next 48 hours, with the latest rumor being quite exciting indeed - the GTX 1080 will reportedly rock 8GB of GDDR5X, at an insane 10GHz.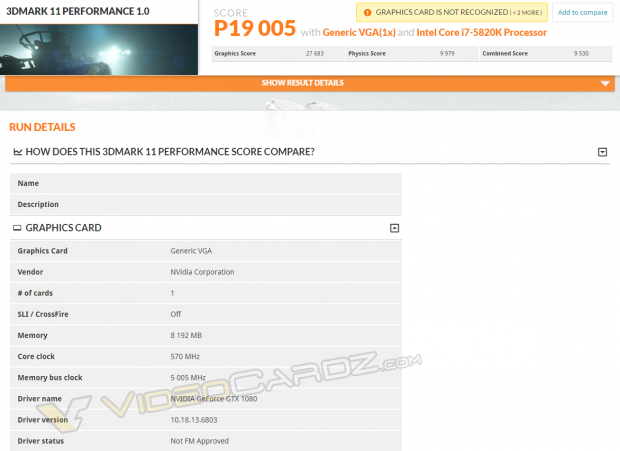 As it stands, the GeForce GTX 980 Ti has 6GB of GDDR5 (no X) at 7GHz. The last rumors stated the new card would hit 8GHz, but 10GHz provides around 320GB/sec of memory bandwidth - if the GTX 1080 keeps its 256-bit memory bus. If it's knocked up to 384-bit, well - then we should be very excited.
Not only that, but there are now leaked benchmarks teasing 3DMark 11 performance. The new GeForce GTX 1080 performed well in the 3DMark 11 Performance test at 720p, scoring 27,683 points - comparing this to overclocked GTX 980 Ti cards which score between 23,000 and 25,000 - that's not too bad at all. It's not the insane jump people were expecting, but this is the GTX 1080 and not the bigger GTX 1080 Ti that will find its way to reality in the future.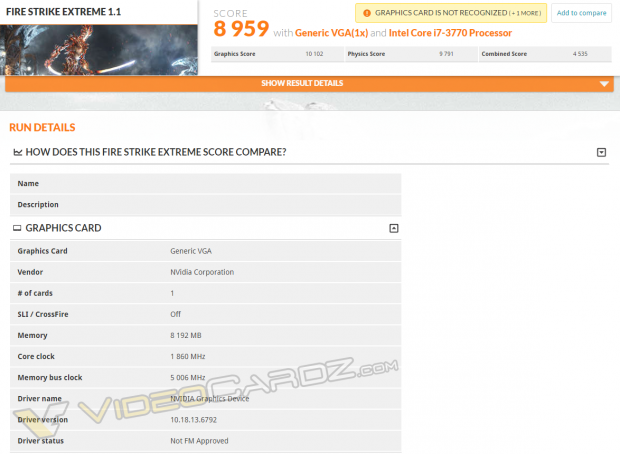 In 3DMark 11 Extreme, the resolution is cranked to 2560x1440 and the GTX 1080 has its GP104 GPU clocked at 1.86GHz, which is quite high as the GTX 980 Ti needs LN2 cooling to hit those speeds. But, even with the Core i7-3770 processor, the GTX 1080 scores 8959 - comparing this to an overclocked GTX 980 Ti which is capable of around 8700 - we're not seeing huge improvements here.
But, we don't know power numbers, temperatures, and the benefits of the Pascal architecture just yet. What I want to know is: how does it perform at 4K? What about VR? What will Pascal bring to the table? Exciting things to be unveiled in the coming days and weeks, that's for sure.