Infinity Ward's new Call of Duty game is called "Infinite Warfare", and will release on November 4, 2016 according to a leaked promo.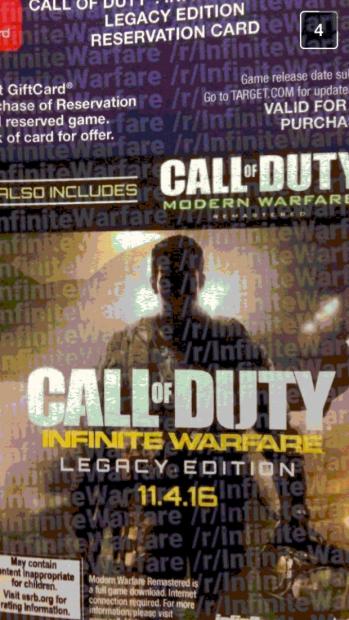 Call of Duty: Infinite Warfare was first spotted as a slip-up on Sony's PlayStation Store, and now a new leaked pre-order token has revealed the game's first image and release date of November 4--which coincides with the franchise's annual releases. The leak is marked as "confirmed" on the Call of Duty Reddit, so it could be accurate, and it certainly aligns neatly with the PS Store listing.
The promo shows the "Legacy Edition" version of the game, which presumably comes with a remastered port of Call of Duty 4: Modern Warfare. The next CoD game was previously rumored as Ghosts 2, and was believed to take place in the distant future with heavy emphasis on technology. Other reports said Infinite Warfare would feature space combat, and based on the helmet in the NPC's hand on the front cover, I'd say this is right on the money.