Fallout 4 console mods coming in May, here's how they'll work
Fallout 4 mods are coming to Xbox One in May, PS4 in June, and Bethsoft reveals exactly how the console mod system will work.

Published Wed, Apr 27 2016 1:45 AM CDT
|
Updated Tue, Nov 3 2020 12:00 PM CST
Bethesda reveals an official timeline for Fallout 4 console mods, and reveals how exactly the system will work.
Fallout 4 console mods are coming first to Xbox One in May, following with the PlayStation 4 in June. PS4 and Xbox One players will browse player-created mods via a special in-game menu, and install mods at the touch of a button. All Fallout 4 console mod listings show screenshot previews and descriptions, and users can bookmark specific mods for later. The mods are separated into a number of different categories for easy browsing, including newly released, community favorites, player favorites, weapons, armors, NPCs and more.
Console players won't be able to make Fallout 4 mods, only play them--the Creation Kit is only available on PC, so PS4 and Xbox One gamers can only play mods created by PC modders.
Although the Fallout 4 Creation Kit hasn't been released yet, it's now in open beta on Steam, so all Fallout 4 PC players can try their hands at mod-making.
"How do we open mods up to everybody? It involves two things: building a system that lets you see the mods, browse them, download them, and play them easily right from within the game. Anyone can do this regardless of if they're playing on PC, Xbox, or PlayStation," said Bethesda's Todd Howard.
"We wanted to make it so that it's right there in the game in the menu," said interface programmer Ricardo Gonzalez. "So right away you can click into any particular details of the mod and you get a quick look at screenshots of the mod, descriptions and version notes, what's in it. You'll be able to easily download it into your game. You can favorite it and bookmark it for later. It's all just right there, easy to access."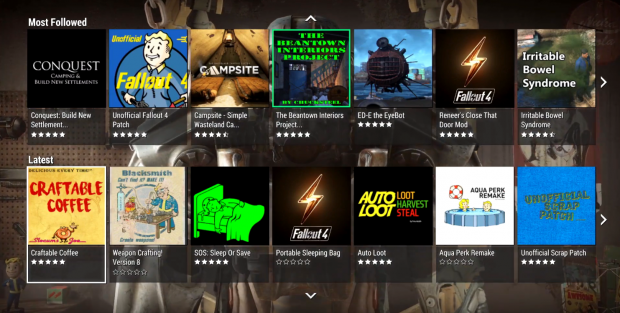 Related Tags