Coming up later this week everyone on all platforms will get the chance to play through the multiplayer beta test of DOOM, so we've compiled everything you need to know about it right here.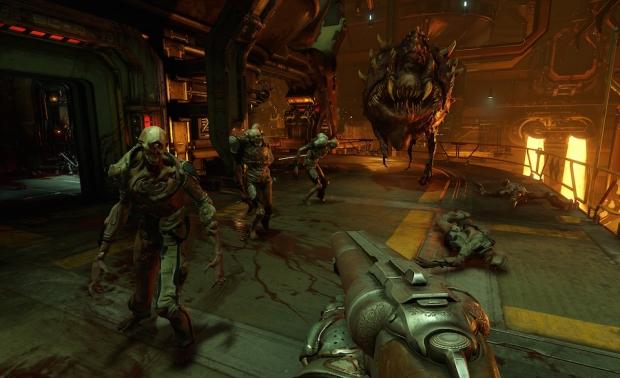 DOOM is coming, and we'll be able to take part in some of the most violent gib-throwing
When is the beta test?
It starts this Friday, April 15th and runs through Sunday, April 17th. It'll be available on all platforms, the PlayStation 4, Xbox One and most assuredly the PC through Steam. That means you're required to have a Steam account to play. So if you're one of the last holdouts to sign-up for Steam and want to play? Well, it's inevitable isn't it.
How to I access the DOOM beta?
It's a simple process to play the game, it being an open beta. All you have to do is find the appropriate platform store and search for the DOOM beta. Once you've done that, you should be greeted with a nice download of between 5.4GBs and 10GBs. You can also find the Steam version right here, the Xbox One version here and the PlayStation 4 version right here, if you don't want to search for them.
What do I get to do in the beta?
Play multiplayer of course! You'll get to play against your friends across two maps in two modes in a 6v6 competition to destroy each other. There's only seven separate weapons to choose from and no railgun, but plenty of other equipment to have fun. They did include a gauss cannon, however.
Maps: Heatwave, and Infernal

Modes: Team Deathmatch, and Warpath - 6v6 each

Weapons: Rocket Launcher, Plasma Rifle, Super Shotgun, Vortex Rifle, Static Rifle, Heavy Assault Rifle, and Lightning Gun

Equipment: Frag Grenade, Personal Teleporter, Siphon Grenade

Power Weapon: Gauss Cannon

Demon: Revenant
This is a beta, so expect things to occasionally not work. In fact, we should expect initial network issues as the test ramps up and more people start loading into it. That's normal, that's the whole point of this anyway. It's a technical test of not only how the graphics engine holds up to scrutiny, but also the back-end network stack too. Just be sure to let us know how you like it in the comments.