Check out 21 minutes of new No Man's Sky gameplay footage
A fresh gameplay session reveals tons of new No Man's Sky details, showing just how big the game really is.

Published Mon, Apr 11 2016 2:34 PM CDT
|
Updated Tue, Nov 3 2020 12:00 PM CST
No Man's Sky creator and developer Sean Murray sits down with IGN to play 21 minutes of his landmark space sim, giving a yet another fresh perspective on the game.
The latest gameplay footage for No Man's Sky aims to answer a simple question: what do you actually do in the game? Sure we know all of the things you can do, but a list of features isn't the same as a natural, organic playthrough. Now Hello Games wants to shed light on an everyday session of No Man's Sky. "The thing I wanted to show people is the kinds of things you do in No Man's Sky. You explore, you fight, you try to survive, and you trade as well in the game," Murray said.
Apart from answering that fundamental question, this session is chocked-full of new info that we didn't know before. We've already compiled a giant list of everything we know about No Man's Sky so far, but Murray reveals even more. Take relics, for example; these megaliths are left by mysterious ancient alien races (think Forerunners), and when you discover them they'll unlock different things, such as new alien words. The relics can also improve your standing with certain alien races.
Discovering relics is pretty important as gamers will have to decipher and decode bizarre alien languages in order to interact with alien races. You'll be able to trade, talk, and build up your faction rating with a myriad of different alien collectives. Be sure to check out the video to learn even more about Hello Games' super ambitious procedurally-generated simulator, and if you're anything like me, you can't ever get enough No Man's Sky.
No Man's Sky is slated to release on June 21, 2016 across PS4 and PC. Pre-orders for the game are up now, along with some pretty snazzy collector's editions.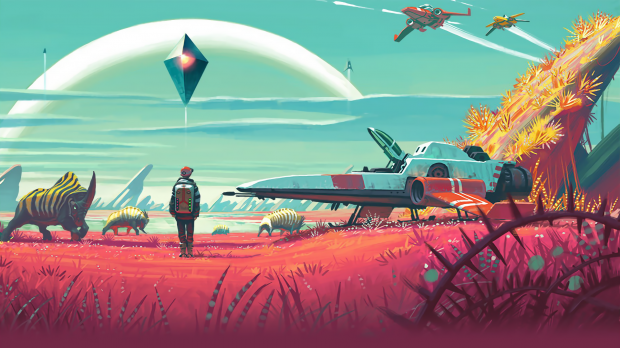 Related Tags