Corsair has just unveiled its new M65 PRO RGB gaming mouse, which is a competition-grade FPS gaming mouse that is infused with technology that pushes you further towards your goal of winning. It features a huge 12,000 DPI optical sensor that provides "pixel-precise tracking and the advanced surface calibration support offers supreme responsiveness for your playing surface".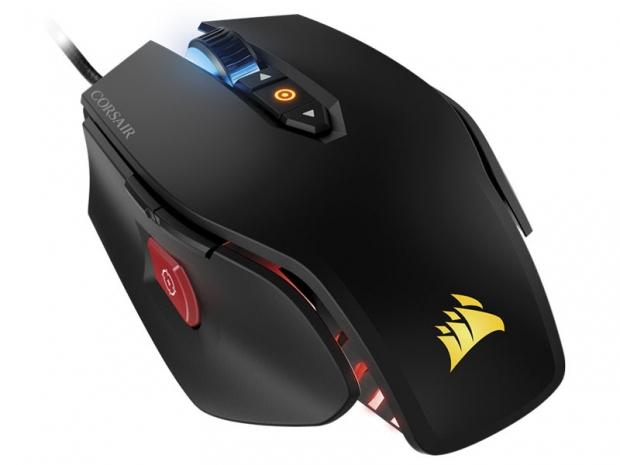 The new M65 PRO RGB has an advanced weight tuning system that lets gamers tune their mouse's center of gravity to better match their play style, as some gamers want super-quick precision so they make it lighter - while heavier weights are used for decisive movements. Corsair has tapped high-capacity Omron switches that are good for 20 million clicks, alongside low friction PTFE glide pads that will provide reliable performance throughout your gaming sessions with the Corsair M65 PRO RGB. Here are the full specs:
12000 DPI high-accuracy sensor: Custom tuned, gaming grade sensor for pixel-precise tracking.
Aircraft-grade aluminum structure: Light weight, durability, and optimal mass distribution.
Advanced weight tuning system: Set the center of gravity to match your play style.
Surface calibration tuning utility: Optimizes sensor precision and responsiveness for your playing surface.
Optimized sniper button positioning: Take advantage of on-the-fly DPI switching to instantly match mouse speed to gameplay demands.
Harness the Power of CUE: Don't just configure your mouse - program it with double macros, custom RGB lighting, and more.
Eight strategically placed buttons: Gain an advantage by customizing your button configuration and play your way.
High-capacity Omron switches rated for 20 million clicks: Ensure reliable performance that holds up through even the longest campaigns.
High-mass scroll wheel: A rubberized exterior is wrapped around a metallic core for great feel and tactile precision.
Extra-large PTFE glide pads: Great feel and swift, precise movement with minimal effort.
MSRP: $59.99 Exc. Tax
The new Corsair M65 PRO RGB is available right now from most places, while the M65 PRO RGB White will be available next month.