PlayStation VR pricing and launch may be announced at GDC
Sony holding an exclusive PlayStation VR event at GDC 2016 where it could unveil pricing and launch info.

Published Tue, Feb 23 2016 10:05 PM CST
|
Updated Tue, Nov 3 2020 12:01 PM CST
Sony is holding a special invite-only press event at GDC 2016 where it may reveal the release date of its PlayStation VR headset.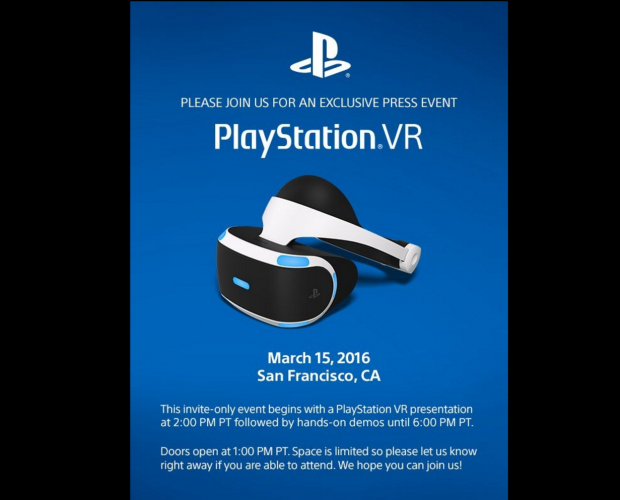 Now that we know the Oculus Rift is $599 and ships in March and HTC's Vive is $799 for a release in April, there's only one missing link to the VR puzzle: Sony's PlayStation VR. The Japanese console-maker is expected to follow its competitors by announcing pricing and launch info at its exclusive GDC event next month.
Past speculation hints the PlayStation VR could cost anywhere from $400-600, with Sony saying that the PSVR will be "priced as a new gaming platform". Gamers are hoping that the PSVR will be as low as $299, but that seems like an especially low estimate, especially considering the headset's cutting-edge OLED displays.
Unlike the HTC Vive and Oculus Rift, the PlayStation VR is purely powered by a PS4 and doesn't need a high-end PC to operate. There's a flip side to that, too, as the PSVR will be less powerful and limited to a console-based gaming environment. Check below for a quick rundown on the PSVR's specs, and we'll keep you updated once GDC hits next month. Sony's event is being held on March 15, 2016, and we may see livestreams go up.
5.7-inch OLED display with true R, G and B sub pixels per pixel

1080p resolution

120Hz refresh rate

low latency under 18ms.

positional tracking with 9 LEDs

360 degree head-tracking

3D audio

100-degree field of view

accelerometer and gyroscope for motion sensing
Related Tags