Just Cause 3 is getting a Sky Fortress content pack
Square Enix has delivered the details on their season pass content packs that're coming out soon. The first of which introduces us to a new wing suit.
Published Thu, Feb 18 2016 1:02 PM CST
|
Updated Tue, Nov 3 2020 12:01 PM CST
The first Just Cause 3 content pack, Sky Fortress, is coming to us on March 2016 on the PlayStation 4, Xbox One and the PC. If you happen to have the Air, Land and Sea Expansion Pass then you'll get to play it a week before it's out.
"If Just Cause 3 is over-the-top action then the Air, Land and Sea Expansion pass aims to stand on its shoulders and reach even higher," said Tobias Andersson, Senior Producer at Avalanche Studios. "An incredible amount of time has been spent ensuring every new item is fully integrated into the main game and can be used during existing missions. Rico's new Bavarium Wingsuit will fundamentally alter the core gameplay of Just Cause 3 and we can't wait to see the crazy stunts that players perform with it."
Sky Fortress contains a brand new set of missions that introduce a new threat, a gigantic, menacing Sky Fortress and an army of deadly robotic drones that don't seem to like you very much. You'll get to use a new upgradeable, rocket-powered, weaponised 'Bavarium Wingsuit' fitted with shoulder mounted machine guns and auto targeting missiles - alongside Rico's new 'Eviction' personal defense drone and 'Bavarium Splitter' assault rifle.
The second pack in the Expansion Pass entitled Land Mech Assault will contain another new series of missions that introduce a unique vehicle that can be carried over into the main game, a heavily armoured mech armed with a gravity gun that lets you manipulate nearly any object in the game. Like throwing a car for instance.
The last pack is called Bavarium Sea Heist, and details of this content pack will be coming out within the following months. It's sure to be just as outrageously fun as the others.
The season pass itself is $24.99 while Sky Fortress will be $11.99 as a standalone DLC pack. We'll see all three of the content packs by the end of Summer in 2016.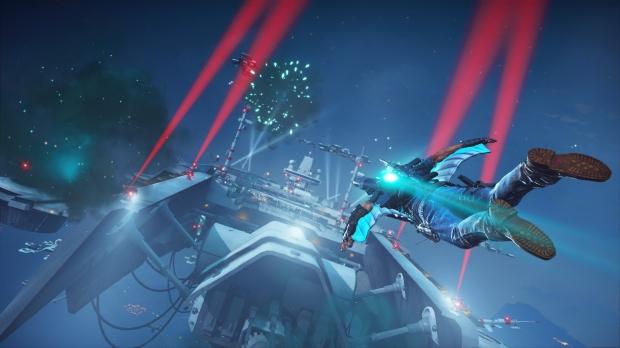 Related Tags