Indian company launches world's cheapest smartphone, just $4
Ringing Bells launches $4 smartphone in India, specs not too bad at all.
Published Wed, Feb 17 2016 5:03 PM CST
|
Updated Tue, Nov 3 2020 12:01 PM CST
While the West is selling $10 and less basic, programmable computers like the Raspberry Pi Zero, India is taking the budget trend much farther. Today it releases the formidable Freedom 251 smartphone at the low, low price of Rs 251 (a little under $4).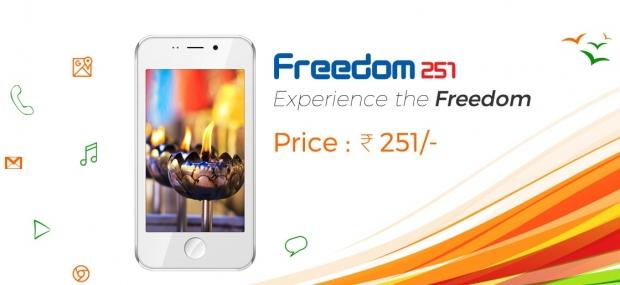 The Freedom 251 features a 4-inch display, 1.3GHz quad-core processor, 1GB RAM, 1,450 mAh battery, 8GB internal storage (expandable to 32GB), and .2-megapixel rear camera and a 0.3-megapixel front camera. It runs on Android Lollipop 5.1, and comes pre-installed with the pop stuff like Facebook, YouTube, and WhatsApp, it has apps like Swachh Bharat (part of a "Clean India" initiative), Farmer (useful for -- you guessed it -- farmers), and Women Safety. It comes with a one-year warranty; customers can take the phone to any of the 650 centers across the country for repairs and the like.
The phone is developed by Ringing Bells, who have developed four phones to date, one $44. The Freedom 251 is tied into the government's Make in India campaign, which supports local manufacturing. It's still not clear as of yet how the phone costs so little, but one might think it's due to government assistance, particularly given the government in 2011 funded $36 Android tablets ($16 for schools, with the aim of promoting electronic education). Unfortunately, those turned out to be nigh unusable.
India is the world's second largest smartphone maker after China. Internet connectivity and smartphone usage are lacking, but it is fast growing, and the 251, if it turns out better than the budget tablets, should help further.
Related Tags