In case you missed it. ARK: Survival Evolved updated on Xbox One
ARK: Survival Evolved on the Xbox One received its newest update enabling full split-screen competitive fun.
Published Sat, Feb 13 2016 3:04 PM CST
|
Updated Tue, Nov 3 2020 12:01 PM CST
ARK: Survival Evolved has finally been updated on the Xbox One to v732.0, which enables some sweet old-school split screen gaming competition.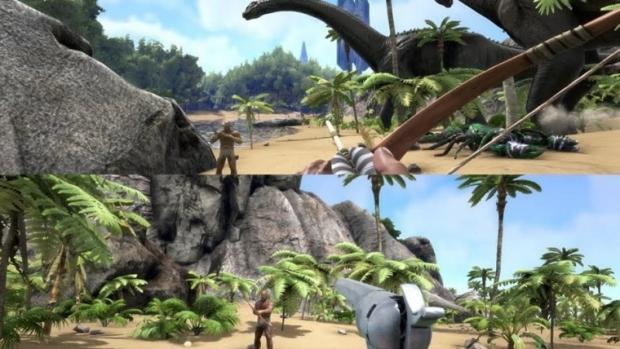 The update weighs in at 4.5GB and also adds three new prehistoric creatures for you to attempt to tame, the Dung Beetle, Dimetrodon and the Gallimimus. The Gallimimus can handle up to three people on it and run incredibly quickly. The Dimetrodon can shelter you from harsh environments with its gigantic sail, a useful feature.
Some other new items have made it into the game such as an electric prod type weapon and SWAT-style armor to help protect you from the new creatures. You're also able to build a greenhouse and brew your own beer. Because pre-historic micro-breweries were a thing. They've even added a hangover effect that happens after the fun stops. Performance hasn't explicitly been optimized in this patch though some people are reporting a slight increase in framerate.
The full list of changes that have made it in are below. Also, there seems to be some issues with the scaling of the UI when split-screen is used on certain TV's, though they hope to get that fixed within the next few weeks.
Gallimimus, a three-seater dinosaur that can't defend itself, instead running at high speeds

The carnivorous Dimetrodon which can shelter players from excessive heat and extreme cold with the sail running down its back

Dung beetle that eats useless waste and uses it to produce burnable oil

SWAT-style Assault Armor tier

Electric Prod stunner weapon

Greenhouse/Glass structure tileset

Underwater loot crates

Craftable beer kegs

Bug fixes, performance update (~15%), fixed memory leak

Non-dedicated servers now support up to eight survivors and 33% larger tether distance
Related Tags