USB Type-C is the new connectivity standard that aims to do it all--video, sound, and data--and even allows mobile devices to be charged super fast. Given the format's capabilities, a Google engineer proves that you can't get away with cheap third-party USB Type-C cables lest you fry your precious new gadgets.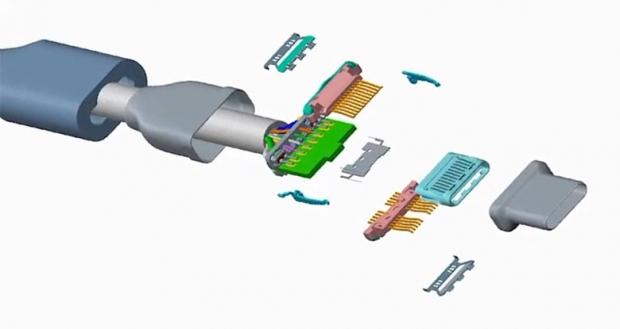 Google engineer Benson Leung has been reviewing various brands of USB Type-C cables to ensure and check performance. His findings are actually quite surprising: only three out of the ten USB Type-C cables he's reviewed are spec compliant to charge his Chromebook Pixel. If that wasn't enough, one of the cheap third-party cables actually fried the $1,000 laptop's ports.
Surjtech's 3M USB A-to-C cable is the culprit, and Leung says that the cord was so badly wired that it burnt out both of the Pixel C's USB Type-C ports and fried two separate USB PD Sniffer devices. "I directly analyzed the Surjtech cable using a Type-C breakout board and a multimeter, and it appears that they completely miswired the cable. The GND pin on the Type-A plug is tied to the Vbus pins on the Type-C plug. The Vbus pin on the Type-A plug is tied to GND on the Type-C plug," the Google engineer said in his review.
Leung didn't stop there. Determined to find exactly how badly designed Surjtech's cable is, he took it apart to analyzed its guts, sharing his findings on a Google+ post.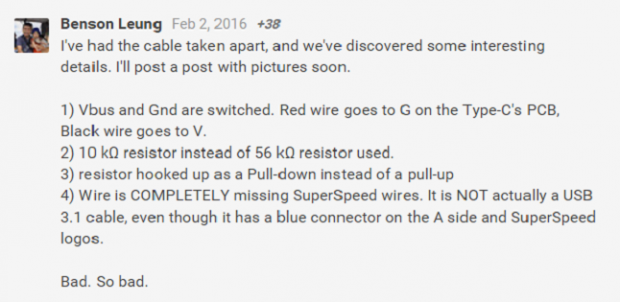 The moral of the story is only buy certified, first-party and well-known brands of USB Type-C cords, or you might zap your fancy new tech for good and all. Leung has found that Belkin, iOrange-E, and Frieq all make quality Type-C brands, so be sure not to skimp out an extra $5-10 and get something you know is dependable.
The cord has since been pulled from Amazon's storefront. This isn't the first time that Leung has warned us about faulty Type-C cords. Back in November, the Google watchdog said that the OnePlus 2's Type-C cable "may cause damage to your charger, hub or PC USB port" if used on a quick-charging device.