AMD was all systems go at VRLA last week, but during the VRLA Winter Expo keynote, the company teased its dual-GPU... the Radeon R9 Fury X2.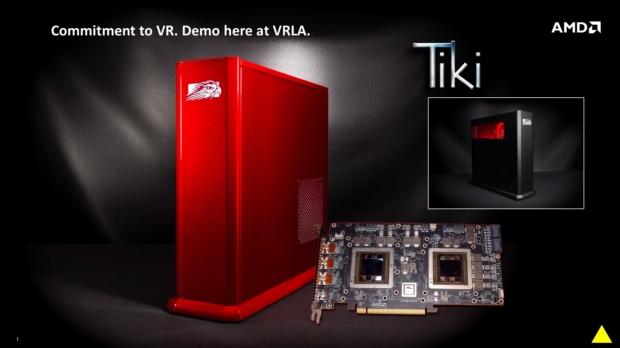 AMD's Roy Taylor said that the Radeon R9 Fury X2 has around 12 TFLOPS of SP, compared to the Radeon R9 295X2 which has 11.5 TFLOPS of SP compute performance. The big difference between the Fiji-based R9 Fury X2 and the Hawaii-based R9 295X2 is that the Fury X2 uses only 375W of power, compared to the R9 295X2 which would chew 500W. This means that the Fury X2 is around 40% more power efficient than the R9 295X2.
During his speech, Taylor said: "Last time I was here I also promised you that we would make the world's most powerful small computer for developers. We promised you we would take two of our highest end GPUs and put it inside that tiny box and if you go downstairs we actually have a demonstration of a dual GPU, 12 TeraFlops, fastest GPU solution in the world, inside of Tiki. It's a feat of engineering we are delighted with".