This is the second full week using the Thermal Take Black V2 gaming mouse infused with Synaptic's IronVault optical fingerprint reader, and it's been a mostly great experience, when it comes to the fingerprint reader that is.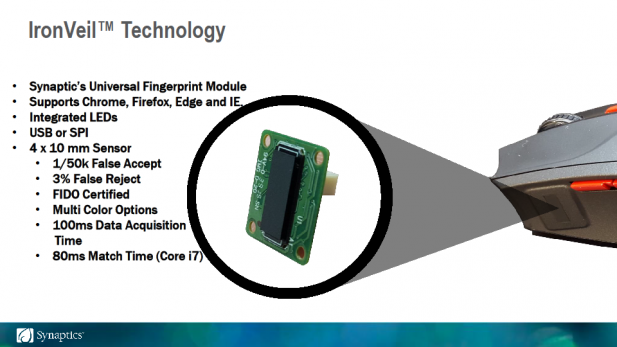 To be fair, the particular mouse that it's embedded in isn't quite my cup of tea, but that isn't what's being evaluated here, aside from the positioning of the sensor itself. So let's get that little hiccup out of the way from the beginning. The mouse just isn't quite comfortable for my hand and everyone has their own preferences when it comes to their HID's, but let's move on to the important bits.
The sensor itself has proven to be an accurate and surprisingly useful device. Enrolling your fingerprints is as easy as with any other capacitive sensor you might be used to (read: iPhone or any mobile phone for that matter). Just follow the instructions on the application that interfaces, and you're in business, able to use that stored fingerprint to be the basis for logging in to websites. It's almost magical, and much more so than when it was first introduced to the greater consumer by Apple.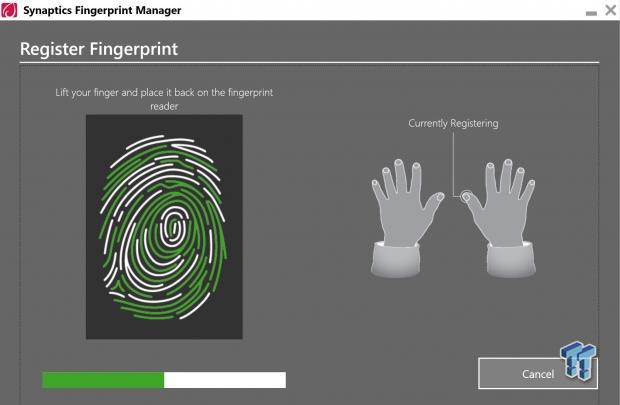 Some in the comments seem to have expressed their concern over the integration with Windows Hello, the security suite that's built into Windows 10, and you'll be happy to know that the sensor is compatible with any FIDO UAF compliant software. Meaning it can literally be used with any software that uses the FIDO UAF (the FIDO Alliance's passwordless experience) SDK as a means to provide authentication. Thankfully it's becoming a burgeoning standard that's quickly being adopted. Well, FIDO U2F, or universal two-factor is, though it means that it's only natural for their passwordless experience to follow. It's hardware agnostic and it allows for seamless integration into nearly anything that needs authentication. I already use a FIDO U2F USB device as a second factor for my Google accounts, so it's only a matter of time before they start using that backbone for Windows Hello just happens to be FIDO certified and ready to go. How convenient.
But then there's the rub, as fantastic as logging into Windows so quickly and as conveniently as placing my thumb where it semi-naturally rests on my mouse, there's not much else you can do with it now. It needs apps. It begs for apps. Synaptics was kind enough to include OmniPass, which is a sort of password manager that's able to make use of biometrics to store passwords, but it's very limited. It appears to be limited to only storing passwords used on websites, and compatible with Internet Explorer and Firefox at that. So it's of limited use for those that enjoy Chrome, or even Edge (which is arguably a damn good browser). So where're the apps?
Synaptics is selling this as a solution to enable multi-factor authentication (or less secure biometric-based single-factor authentication) for in-game purchasing of stuff. Star Wars: The Old Republic used to send you an actual secure authentication token as a second factor to keep your account safe, though it's now morphed into an app (which is smart, really). IronVault in peripherals could replace things like that and be much more easily expanded. It just needs programmers and developers to integrate the necessary framework, which is admittedly not necessarily easy to do.
But until there's adoption outside of the normal enterprise applications, then it likely won't go anywhere. And it really can, despite the security concerns surrounding the use of fingerprints (which will be discussed in next weeks piece). We need app support, and there are plenty of MMO's and other games that could easily integrate well.
CS:GO itself sees a surprising amount of hacked accounts on Steam due to the monetary value associated to weapon skins in the game. Just imagine having this as part of a system of logging in, in addition to the MFA (Steam Authenticator) that can already be used. It could cut down on those incidents of stolen accounts and taken skins by a drastic amount. And all it would take is a mouse that costs barely more than one without the sensor. And that sensor doesn't interfere with anything. As a single-factor, no, it's terrible, but we'll get into the technical specifics of how fingerprint authentication actually works in the next article. And it may surprise some (and not surprise others).