AMD shows off their 64-bit ARM Opteron A1100 series SoC
AMD has finally unveiled the final silicon for their ARM based A1100 series Opterons. These have 10GbE Ethernet and 8 A57 cores for great efficiency.
Published
1 minute & 50 seconds read time
A new family of Opterons from AMD has arrived, and they fill a growing niche of low-power, dense and highly available devices in datacenters. The Opteron A1100 SoC combines 64-bit ARM Cortex-A57 cores with 10GbE networking solutions for their first entry into the ARM datacenter market.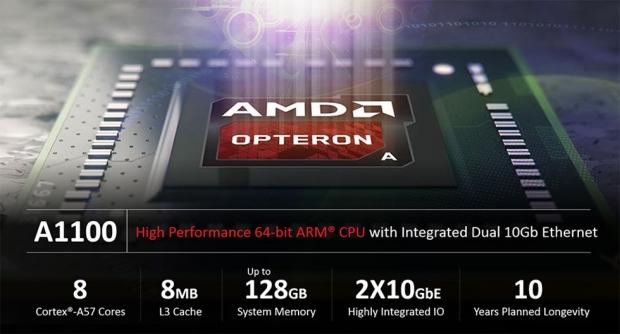 The Opteron A1100 SoC has been in the news in the past when we first heard about the revival of the Opteron brand and a new direction that AMD wanted to head in the server market. A1100 is part of a plan to saturate all aspects of the market from the bottom on up to the high-performance.
This new A1100 SoC starts off with an off the shelf ARM Cortex-A57 that hasn't been modified and has 4MB of shared L2 cache and 8MB of L3 cache. For memory it has two channels of either DDR3 or DDR4 and can support up to 128GB of ECC memory as fast as 1866MHz. The most exciting feature is the dual 10GbE network connections and 14 SATA III ports, making it a natural choice for web servers and even databases of a certain size. There are also 8 lanes of PCIe gen 3., but this isn't intended as a GPU compute platform.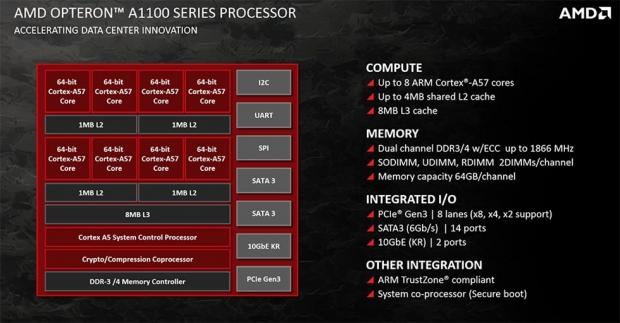 The design that AMD has implemented uses up to 8 cores that are clocked up to 2GHz depending on the model you choose. The top end A1170 operates at that peak frequency of 2GHz while the low-end A1120 will be at 1.7GHz with only 4 cores and less L2 cache. So they have a few options for those looking at ARM in their servers. The top end processors operate at a very small 32W while the low-end consumes only 25W.
ARM might seem somewhat out of place in the server market, especially because other solutions, such as HP's Moonshot and those from Cavium, haven't quite caught on as they have intended. But low-power ARM processors are ideally suited for serving up cloud content that isn't necessarily processor dependent. Storage servers specifically might be able benefit from the power savings as they're sometimes network and storage speed limited, which shouldn't be an issue here.
There's a surprising amount of software support now given that ARM has slowly made it's way into the server market. Red Hat, Linaro, Suse are all OS's that now work naively and we'll likely see optimized software solutions that can compete on a power efficiency basis. Amazon, Google and even Microsoft are all ARM licensees, so ARM is becoming more important in this space, it's only a matter of time now that AMD has their own solution.
Related Tags