The most agonizing game of all time, Desert Bus, is coming to VR
The tormenting tedium of cross-country bus driving will soon make the jump to the PlayStation VR and Oculus Rift.

Published Thu, Jan 14 2016 12:33 PM CST
|
Updated Tue, Nov 3 2020 12:02 PM CST
Desert Bus was never meant to be an actual game. It's more of a huge practical joke...but the kind of cruel joke that only the twisted minds of legerdemain artists Penn and Teller could think up. And that's exactly what it is...but now the low-fi torture is crossing over to high-definition virtual reality, and we're all invited to catch a ride.
Did you know that Penn and Teller actually had a game? It was a Sega CD game called Penn And Teller's Smoke and Mirrors, and it was so godawful that it was cancelled before it was ever released. The game was made up of a number of "non-game" spoofs, and one of the most notorious, mind-meltingly bad mini-games was Desert Bus. The "game" is more like an exercise in monotonous hell--all you do is drive a bus from Tucson, Arizona, and Las Vegas, Nevada in real-time, across a blank empty road that's totally devoid of life. As AVGN put it: "You drive, drive, and drive. There's nothing out there but road, and sand. There's no passengers to interact with, no music on the radio...the road never turns, and there's no other vehicles."
Now Desert Bus is making its way into the virtual reality realm to spread torment and misery to Oculus Rift and PlayStation VR owners. Oddly enough, Penn Jillette is working with Borderlands boss Randy Pitchford to make Desert Bus VR. "[Pitchford] is calling it Desert Bus 2.0. I'm calling it Desert Bus 1.0003. It'll be a period piece, it'll be set in 1992, like the original Desert Bus, just high-fidelity. We're doing a couple other games. It'll be a bundle of things. We're talking to a bunch of people. It'll probably be agnostic in terms of platform. It'll probably be for the [Oculus] Rift and for the PlayStatin VR," Penn Jillette said on his podcast.
Although Desert Bus is truly one of the most awful games ever made, it's become the center of a cult phenomenon in the gaming world. The game has even inspired a charity called Desert Bus for Hope, where organizers marathon run Desert Bus in a tedious livecast that can last for days on end.
While Desert Bus VR will be more of a novelty rather than a serious game, Jillette says that the game is mainly targeted at fundraisers like Desert Bus for Hope to raise money for charities.
"We are going to do a--this is a big deal--a new Desert Bus. And it's just going to be for charities, so charities can use it to raise money," Penn said.
It'll be interesting to see how the project pans out, and whether or not Desert Bus 1.0003 will be as tedious and brain-cell smashing as the original. Also be sure to give the AVGN episode a good watch--it's definitely worth it.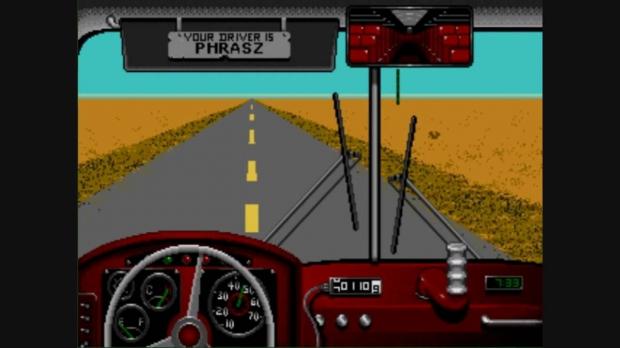 Related Tags