Intel's NUC and Compute Stick just got faster with Skull Canyon
Intel just dropped a bomb with a lot of compute power in a tiny volume. They previewed the latest Compute Stick and NUC.
Published
3 minutes & 37 seconds read time
CES 2016 - In a meeting room at Intel's CES 2016 Mega-Booth, I had a chance to go hands-on with Intel's latest small and tiny form factor PC offerings. This includes the new line-up of Compute Sticks, the latest 4th generation NUCs, and a secret NUC which we reported on last month called Skull Canyon.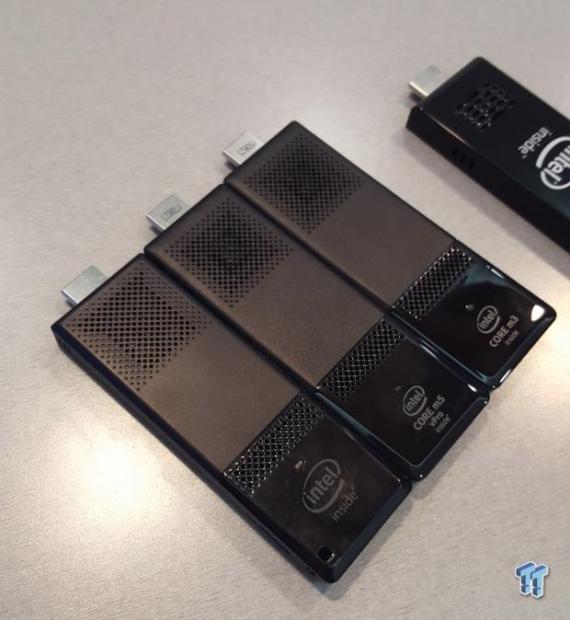 The new lineup of Intel Compute Sticks is said to be night and day compared to the original model, which many agree has limited applications outside turning dumb-TVs into smart-TVs with a Windows OS. The original compute stick fell short in a few tasks, and Intel has worked to remedy these pitfalls. For starters, the entry Compute Stick, based on a Cherry Trail SoC, will have much more powerful graphics. One issue with the original was that the fan would turn on if it was stuck behind a TV after about 15-30 minutes of streaming, but Intel focused heavily on improving the graphics processor, so tasks such as streaming do not make the SoC work too much harder.
Intel has also introduced more powerful Core m3 and Core m5 (with vPro) variants, which they hope, will satisfy the demands for digital signage. All three new Compute Sticks address the slow Wireless N WIFI on the original with 2x2 Wireless AC. All three variants will also have a microSD card slot for storage expansion.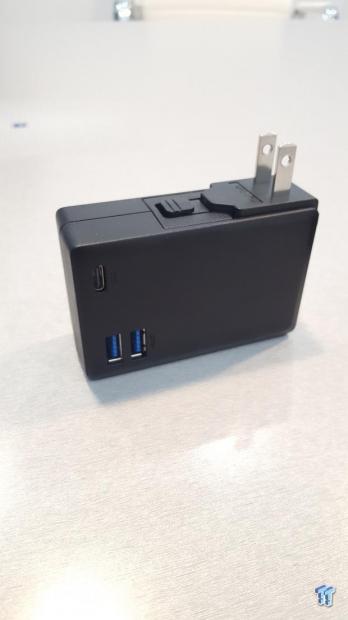 The entry-level Cherry Trail Atom SoC variant will cost $159 and comes with Windows 10, 2GB of RAM, 32GB of storage, and has two full-sized USB type-A ports (1x USB 3.0 and 1x USB 2.0). Intel did mention their partners might come out with similar Atom based sticks with more than 2GB of RAM. The Core m3 and Core m5 variants will have only a single USB 3.0 port, but they will come with a special charger/USB 3.0 hub combo device as you can see above. Since the Intel Compute stick is powered through microUSB, data transmission can also take place over the same USB port. The m3 and m5 variants will be more powerful and come with 4GB of RAM and 64GB of storage. They will be pricey, the Core m3 will be $399 and the Core m5 (with vPro for security) will come in at $499. Right now the Atom variant is shipping in large quantities, and soon enough the m3 and m5 variants will be out.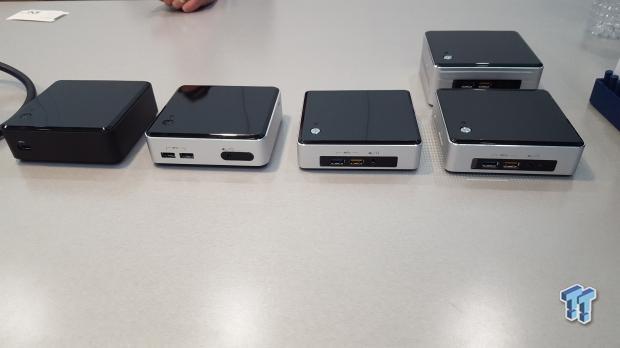 Intel's 4th generation of NUCs will come in four i3 and i5 based variants. You can see the four generations of NUCs starting with Ivy Bridge on the far left and moving to Skylake on the far right. The i3 and i5 NUCs will come in both slim and fat models, with the fat model supporting a 2.5-inch drive bay for expanded storage. The new NUCs have a few upgrades compared to their predecessors. On the outside, the new NUCs will have normal HDMI 1.4 instead of those rare mini-HDMI ports and an SD card slot on the side. Internal improvements consist of upgrading internal IO to PCI-E 3.0 and shifting towards DDR4L. The M.2 slot will support 32Gb/s speeds just like full sized ATX boards (4x PCI-E 3.0), and Intel did confirm that the new NUCs will have the same thermal pad for cooling those M.2 drives. The M.2 slot will support 32Gb/s speeds just like full sized ATX boards (4x PCI-E 3.0), and Intel did confirm that the new NUCs will have the same thermal pad for cooling those M.2 drives. Intel told us they sold roughly a million NUCs in 2015, so we will wait and see how 2016 will pan out with the latest generation.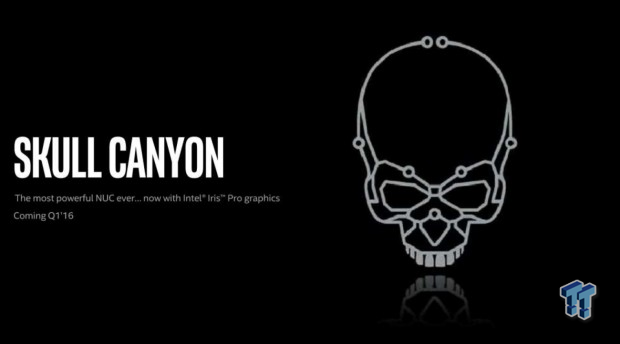 A month ago, Intel teased the community with Skull Canyon, dubbed, "The Most Powerful NUC Ever." I had a chance to handle the product, and can confirm its existence, but I was not allowed to publish pictures. Past confirming its existence and the fact that it is a real product, Intel was not keen on having us disclose any more details. I can say that Skull Canyon looks a bit different from the typical NUC, and if anything has a form designed to support function instead of trying to look like a cube. The product was not finalized, and everything from here on out is pretty much conjecture on my part. By the looks of the product, it should support the latest in storage and transfer technologies, and I would hope that includes Thunderbolt 3. If Skull Canyon supports Thunderbolt 3, then for the first time we might have an external port capable of supporting external graphics, and manufacturers might have an excuse to produce external GPU enclosures for mainstream consumption. Thunderbolt 3 supports up to 40Gbps, which would provide enough PCI-E lanes for operation (at least 4x lanes), but it is not close to the 128Gbps you can get on a motherboard. However, I would not get too excited. It took months for Thunderbolt 3 motherboards to hit the market since Intel's validation process takes so long, so it might take time for this concept to come to fruition. On the upside, Razer did announce its "Razer Core" for external graphics capabilities over Thunderbolt 3, and I would expect it and any other future external graphics docks to be pricey.
Related Tags