Sennheiser's $55,000 headphones just blew my mind, ears and wallet
Sennheiser's $55,000 Orpheus headphones might be a halo product, but the price tag might be worthy of the aural experience you'll get.
Published
2 minutes & 52 seconds read time
CES 2016 - Audio is a precarious subject for a lot of reasons. Not everyone can tell the difference between two different sets of headphones and sometimes audio-quality isn't the first thing on some peoples minds when it comes to building PC's. But then you try a $55,000 set of headphones and you wonder where they've been all your life.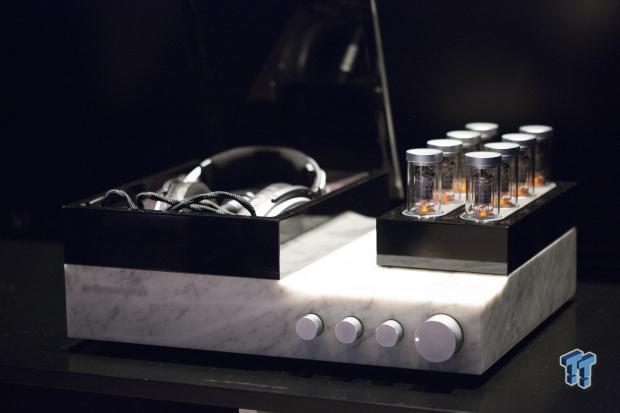 Sennheiser is now on to their second generation of Orpheus headphones, using the original 1991 model as inspiration, they crafted the ultimate audio experience. And no, the price-tag doesn't color the experience, they're actually that good. It's overwhelming, so much so that someone actually cried while listening to the Orpheus (not me, but almost...)
They feel expensive in your hand, and I placed them gingerly on my head, careful to avoid bending them too far. But there's no actual need to fret, because these are made to be used and actually listened to. I put them on with Hotel California playing through them, which has a huge variety of sounds to help showcase just what they're capable of. Once they're on, you get blown away by the huge sound-stage, something that extends into what might be described as natural. It's not like you're sitting at a concert, no, it's much more than that. It's like you're literally in the music itself somehow, if you close your eyes. It just envelopes and it's never harsh and I certainly never wanted to take them off.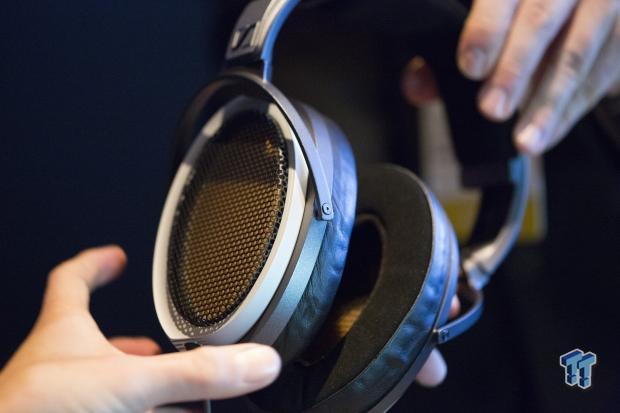 Cymbal crashes, guitars, drums, everything is so clean, but not in any sort of analytical way. They're fun, and likely color the sound, but the whole system is puts out a sounds that's so incredibly clear, even with my tinnitus and hearing that's really not that great.
And they can get loud, if that's your thing.
But you don't buy $55,000 headphones for pure loudness (or overpowering bass), you buy them for the articulate and clean sound that they can create. And the idea is that the components chosen and manufacturing process used help to create an experience unlike any other. And it's pure aural bliss. I even have tinnitus and worse hearing than some, but the details and nuances that are revealed are simply stunning.
They have impeccably crafted aluminium ear cups, with electrostatic transducers that have platinum-vaporized diaphragms that are capable of producing sounds from 8Hz all the way to 100KHz are decidedly , which is well into bat and elephant acoustic territory. But that also means that there's a great deal of room for tuning these for human ears too. For which these shine without a doubt.
The marble base station for the amp gives it an air of luxury that's only appropriate for the high price (it comes from Carrara, Italy), but it's more than just a pretty exterior flourish, because there was purpose in choosing each individual component. The material was chose for it's acoustic properties too. Underneath it has an element of shock absorption underneath so prevent the vibrations from those walking about around you, or earthquakes, from having an effect on the audio signal path, which is completely distortion free, or supposed to be.
The tube amp/DAC combo itself is a technological marvel that combines eight ESS SABRE ES9018 DACs that let it push through audio at a 32 bit resolution up to 384kHz or by using DSD at 2.8MHz and 5.6MHz. The tubes are not only beautiful, but capable of some incredible power-output. All of the technological achievements result in only 0.01% distortion at 1kHz at 100dB's. An incredible feat.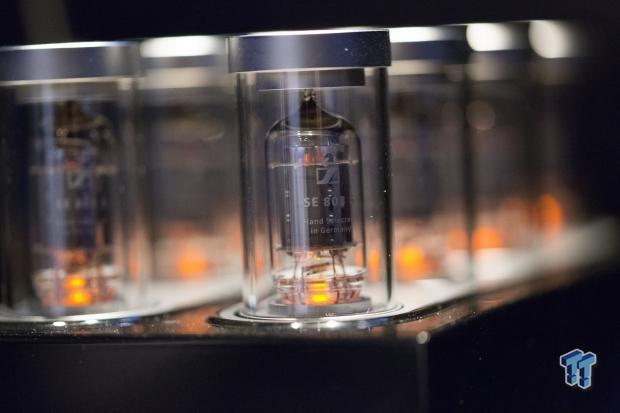 What that means is that on paper it's capable of passing through your music that's more true to the source and that sounds amazing. And in reality, it does just that! You'll never find a more blessed example of auditory bliss.
Obviously $55,000 isn't exactly an easily digestible number, but this is also serves as a halo product where technologies can trickle down to the more affordable models. So it's good to see the boundaries of audio technology broken, even if it isn't affordable to the vast majority of people, because we'll all benefit from the advancements.
Related Tags