Alienware offers VR Ready PC and Oculus Rift for $1600
Alienware cuts the price of its VR Ready desktop PC if you buy it alongside an Oculus Rift.

Published Sat, Jan 9 2016 12:47 AM CST
|
Updated Tue, Nov 3 2020 12:02 PM CST
CES 2016 - Alienware has announced a new promo aimed at new VR adopters that discounts the price of an Oculus Certified PC when purchased alongside an Oculus Rift headset.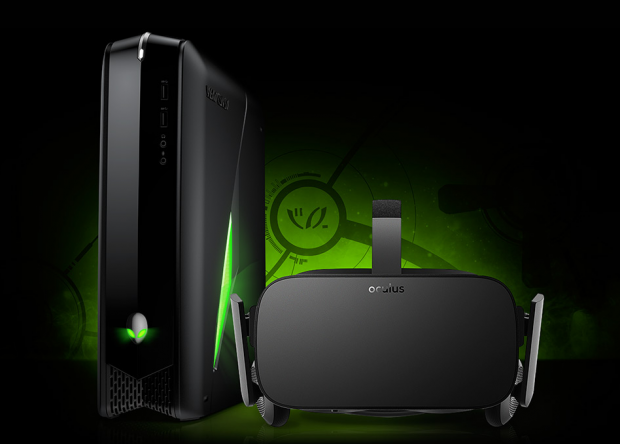 With the Oculus Rift opening up pre-orders at $599, key hardware titans are piecing together VR-compatible builds to prepare for the oncoming storm of virtual reality. Dell's Alienware line has joined the VR Ready program by announcing the $1200 Alienware X51 R3 Gaming Desktop, which sports the minimum specs required to power the Rift. The Alienware X51 comes with an Intel i5-6400 Skylake CPU, 8GB of onboard DDR4 RAM clocked at 2133MHz, an NVIDIA GeForce GTX 970 (model unspecified, probably stock), and a 1TB hard drive. No keyboard, mouse or monitor is included.
$1200 seems like a lot, especially for a PC that only sports the bare minimum specs. Alienware will actually lower the X51 R3's price down to $1000 if you pre-order the Oculus Rift along with the PC...but of course that brings the grand total of your bill to $1600 plus tax. Apart from the discount, one of the major benefits in going this route is that you automatically get skipped to the front of the Oculus Rift pre-order line and are guaranteed to receive your headset when the first batch is released.
Oddly enough, Alienware's product page for the VR ready desktop tells viewers to add liquid cooling options for CPU overclocking, but the X51 R3 comes with a non-K Intel i5 processor, and the'res no option to add cooling nor is there an option to change the CPU.
Dell is also keen on offering discounts for other hardware alongside the purchase of the X51 R3 build. The company's graphics amplifiers--essentially external GPUs--and monitors are slashed by a $100, and the Alienware Alpha Steam Machine is slashed as well. If you're planning on picking up a bunch of Alienware gear, you might want to do it all at once.
Bear in mind that buying each component piece-by-piece is always the most affordable option. Of course then you'll have to wait for good sales to pop up on the Build A PC Sales Reddit, but that's the trade off. Sometimes you can find GeForce GTX 970's on there for as little as $251, and you can pick up an EVGA GeForce GTX 970 for $279 right now over at Jet if you use the 20% off 20NOW code.
While it's great to be able to get everything you need all at once, just remember that every GeForce GTX 970 and above (as well as AMD R9 290 and above) are "VR ready", so don't be tricked by the lingo or marketing badges. Contrary to popular belief, video cards don't have to be wallet-breaking expensive if you look in the right place.
Related Tags