AMD stock rises 21 percent in five days, 68 percent in three months
Things looking up as AMD stock rises 3.25 percent following Samsung partnership news, 68.24 percent in past three months.
Published Wed, Dec 23 2015 1:32 PM CST
|
Updated Tue, Nov 3 2020 12:02 PM CST
AMD has seen a staggering 90.65% stock price drop over the last decade, but things are looking up in recent times. In the past 24 hours, following the news Samsung is said to be partnering with AMD to help produce its upcoming Greenland GPU and Zen CPU chips, stock has risen 3.25% as of press time, and 21.19% over the past five days. Looking at the bigger picture, it's seen a 28.83% hike over the past month, and a 68.24% hike over the past three months.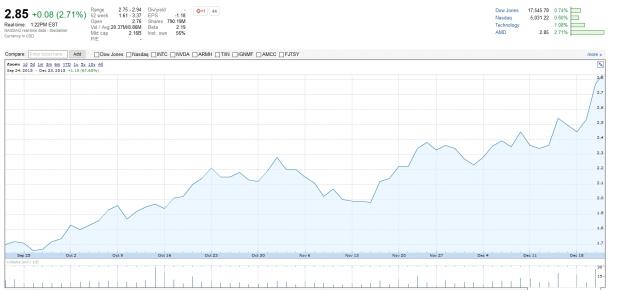 Looking at the news in those time periods, we can see things were going mostly wrong for AMD up until about a week into October with layoffs, failed investment deals, the departure of Jim Keller, reduced spending, market share drops, and more.
But then, it began to turn around. Though there was still some bad news (Phil Rogers heading over to NVIDIA, decreased revenue over last year), there was much more to be excited about: a Fury X2 rumor, a partnership with Oculus and Alienware, the 8-core Hierofalcon CPU, rumors of strong performing GPUs on the horizon, and then, a flood of information about Zen, the forthcoming CPU architecture that was said to finally make AMD a contender in the CPU game again, and assurance the company was committed to still offering great GPUs, too. This assurance was later backed up with specific efficiency claims, the release of Crimson Edition drivers and the new Radeon Settings (which replaced the slightly clunky Catalyst Control Center), and the announcement of GPUOpen, its open source answer to NVIDIA's GameWorks.
Assuming AMD delivers on its CPU and GPU claims and the good news keeps outweighing the bad, this positive trend may very well continue.
Related Tags