Batman: Arkham Knight's new 538MB patch restores heavier rain, more
The new 538MB patch for Batman: Arkham Knight restores heavier rain, minor performance optimizations, and more.

Published Fri, Dec 18 2015 1:27 AM CST
|
Updated Tue, Nov 3 2020 12:02 PM CST
After pulling the game from the market because it was so bad, Warner Bros. and Rocksteady Studios seem to be more confident with Batman: Arkham Knight in its new post-patch state. A new patch has been released, weighing in at 538MB. Batman: Arkham Knight was so bad, we named it the worst gaming fail of 2015 in our new 'Top 5 Gaming Fails of 2015' article.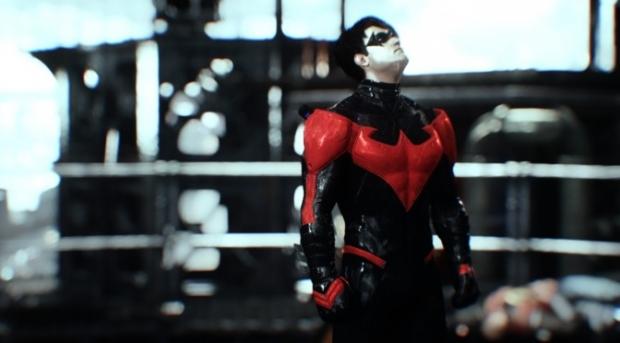 According to the changelog, we can expect the new December 17 patch to restore the heavier rain during the opening section of the game, fix the missing rain effects on a few remaining player character skins, miscellaneous gameplay fixes and stability improvements as well as minor performance improvements. The new patch for Batman: Arkham Knight will be auto downloaded through Steam, with the full changelog available below:
Fixed some issues with stars being awarded or lost incorrectly in specific AR Challenges

Improved target prioritization during combat

Restored heavier rain during the opening section of the game

Fixed missing rain effects on a few remaining player character skins

Miscellaneous gameplay fixes and stability improvements

Fixes to some keyboard and mouse prompts after being rebound

Made frame times more consistent for 60hz monitors running at 30fps with VSync enabled

Previously equipped gadgets can be selected with keyboard and mouse again after restarting an AR Challenge

Fixed the default key binding for Harley's Snare gadget

Batgirl's Remote Hacking Device can now be properly selected with keyboard & mouse in AR Challenges

Minor performance optimizations for certain combinations of hardware

Fixed keyboard & mouse controls that did not function in DLC AR Challenges when no previous save data existed

Quick Photo Mode can now be triggered with keyboard and mouse controls when using the Batmobile

Special Combo Takedowns can now be performed with Quickfire Gadget binds if they were rebound

Fixed graphical corruption that may occur after Alt-Tabbing

Improvements and corrections to some localized text

Added new Classic Harley Quinn skin for use in AR Challenges & the Harley Quinn Story Pack

Added Arkham Knight as a playable character for AR Challenges & the Red Hood Story Pack

Added support for December DLC content
Related Tags