Hideo Kojima officially signs up with Sony for new PS4 exclusive
Hideo Kojima is officially done with Konami and signs up with Sony to develop a 'compelling franchise' on the PS4.

Published Wed, Dec 16 2015 4:29 PM CST
|
Updated Tue, Nov 3 2020 12:02 PM CST
In a short span of several hours yesterday, beloved Metal Gear Solid developer freed himself from Konami's cruel yoke, proceeded to go indie with a resurrected Kojima Productions dev team, and found a new publisher under Sony Computer Entertainment.
To the elation of millions of fans worldwide, Sony excitedly broke the official news in a press release and video announcement combo, where Sony's own president Andrew House welcomed Kojima in a bit of footage that left us feeling warm and fuzzy. Thanks to the Metal Gear Solid series, Kojima and Sony go together like peas in a pod, and it's only natural the two work together in the future.
"I will be taking on a new challenge by establishing my own independent studio, and I am thrilled to be able to embark on this journey with PlayStation, who I have continued to work with all these past years,"said the MGS creator. "I cannot wait to deliver, with PlayStation, a game that will become a compelling franchise."
It's worth mentioning that the Japanese gaming giant hasn't invested any cash into Kojima Productions, and will only act as publisher as per the agreement. We don't have any official info on Kojima's upcoming game, but we do know it obviously won't be Silent Hills or Metal Gear Solid, as Konami owns the rights. In Kojima's own words, heand Sony are apparently working on a fresh new IP that will "become a compelling franchise", so maybe we'll see a Del Toro mashup after all?
In a recent Tweet, Kojima also shared the new knight helm logo for the resurrected Kojima Productions, which represents "aiming the new world with the latest technology and pioneering spirit". It's utterly fantastic to see that the Konami vs Kojima controversy is finally at an end, and that the talented creator and his developers are now free to embark on new experiences.
We fully expect Sony to fully invest itself with Kojima, living up to Andrew House's promise to "fully support" Kojima on his new journey. The Metal Gear Solid creator's unique creative vision offers a whole new universe of IP's and ideas to explore. Maybe we'll even see a kind of Silent Hills spiritual successor on the PlayStation VR? Wouldn't that be insane? We think so.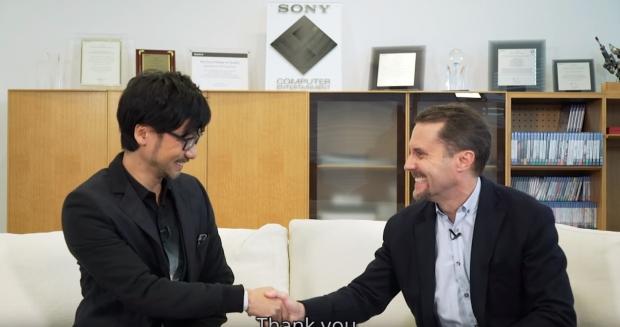 Related Tags