New graphics comparison shows upscaled 1080p PS2 emulation on the PS4
Ever wondered what GTA: San Andreas look like in 1080p at 60FPS?

Published Mon, Dec 7 2015 11:20 AM CST
|
Updated Tue, Nov 3 2020 12:02 PM CST
With its decision to nix PS2 game playback on the PS4 and force gamers to re-buy PS2 games they already own, Sony has caught a lot of flak from the gaming community--and rightly so. Despite the stigma attached to Sony's nostalgia tax business model, the PS4's emulation does refresh old PS2 games to upscaled 1080p graphics, and it's interesting to see how well certain games have aged.
The PlayStation 2 era is filled with some of the most impressive titles in the history of video games, but it's fair to say that some of these experiences may not have aged well in the graphics department. One of the most universally lauded games of the PS2 era, Grand Theft Auto: San Andreas, goes under the microscope in a new side-by-side comparison that shows how impressive the PS4's upscaled emulation really is.
You'll notice right away that the graphics are indeed more crisp and defined, but also bear in mind that this is full emulation and not an HD remaster. They're no extra bells or whistles--the game is a 100% mirror reflection of its PS2 counterpart regarding content. Of course, this bit of footage is just a cinematic scene and doesn't show off any actual gameplay, but you'll still get the picture.
If you're not familiar with what's going on with PS2 game playback on the PlayStation 4, here's a bit of a backstory.
Sony recently turned a lot of heads by confirming that the PlayStation 4 console can fully emulate PlayStation 2 games, leading many to believe that old PS2 games libraries would be playable on the PS4. That excitement was short-lived and turned to utter horror when gamers realized that PS2 game discs aren't playable on the PS4, and PS2-to-PS4 emulation is limited to a small selection of digital-only PS2 games.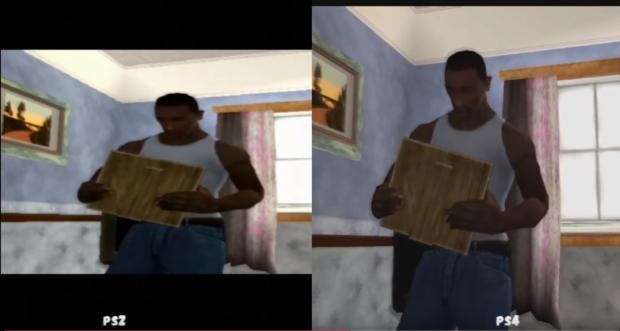 At TweakTown, we made the prediction that Sony wouldn't ever allow PS2 disc playback on the PS4, and it turned out to be right on the money. The argument is too strong against disc support: you can pick up a ton of great PS2 games online or in-store for quite cheap, and Sony would just be leaving money on the table by not charging you for it. So the solution is making users re-buy games they already own to play them on the PS4 in 1080p, thereby meeting a kind of janky "backward compatibility" with the terrible HD remaster scheme.
In any case, Sony needs to adjust the price of its emulated PS2 games if it seriously wants gamers to buy them. As of the time of writing, Grand Theft Auto III, GTA: Vice City and GTA: San Andreas are listed on the PlayStation Store for $15 each. That's insanely steep especially when you can walk into Wal-Mart and pick up the PS2 GTA trilogy for just $20.
Sony's PS2 "backward compatibility" on the PS4 isn't tailored to retro gamers, and is an awful solution for gamers on a budget. Yes the games do look better, and Digital Foundry notes that the emulated PS2 games can hit 1080p at 60 FPS, but this kind of approach didn't work for PlayStation Now and it'll likely fail here too.
Related Tags