Harrison Ford demos 'Star Wars' set injury on Han Solo figurine
'Star Wars' toy collectors around the world are crying out in terror.

Published Wed, Dec 2 2015 5:02 PM CST
|
Updated Tue, Nov 3 2020 12:02 PM CST
Just as camera begun rolling 'The Force Awakens' in 2014 legendary actor Harrison Ford suffered a broken ankle when the hydraulic door to the Millennium Falcon set came loose and fell, crushing his leg. On the publicity trail for this month's release of the film, Ford was a guest on the Jimmy Fallon show, where he comedically demonstrated the injury on a $200 USD Han Solo Hot Toy action figure. Scroll to 2 minutes in for the violence, which is causing collectors around the world to cry out in terror.
Director J.J. Abrams was also injured when he attempted to pry the door off the 73 year old actor, breaking his spinal L4. The accidents caused a short break in shooting, which was used to take the pressure off the breakneck speed that the script was being re-written.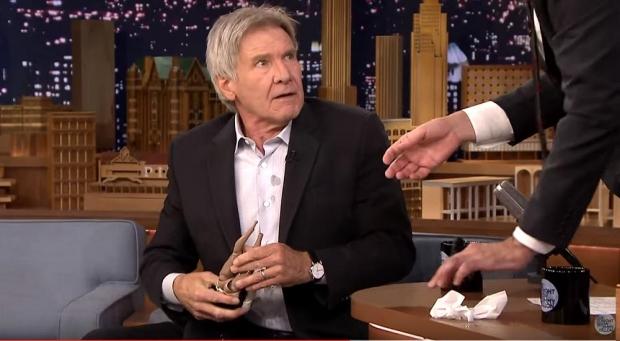 'Star Wars: The Force Awakens' opens worldwide in 2D, 3D and IMAX screens in the U.S. on December 18th, 2015, and a day earlier in Australia.
Related Tags