Fallout 4 player charts the Commonwealth in this splendid map
Don't feel like buying the Fallout 4 guidebook? This stunningly detailed map has you covered.

Published Mon, Nov 23 2015 5:17 PM CST
|
Updated Tue, Nov 3 2020 12:03 PM CST
Fallout 4 is one of the few big-name Bethesda RPG's that didn't come with a huge fold-out poster map, and we don't even get with Prima Games' basic guidebook. Sure you can shell out some extra caps to get the fancy hardback edition...or you can make your own. One amazingly-skilled gamer opted for the latter choice and created a spectacular feat of cartography that will fuel your adventures for months to come.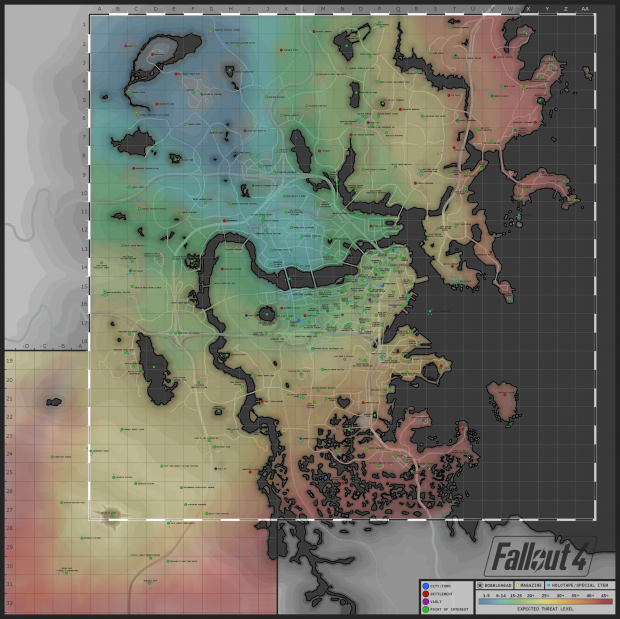 The sprawling Fallout 4 map was created by a Redditor named koolkyle802, and it exposes the hidden treasures and terrors that post-apocalyptic Commonwealth has to offer. The map has everything from cities, settlements, locations, bobbleheads, holotapes, magazines and a chromatic tide that denotes enemy threat levels.
KoolKyle802 used GIMP to create the map and has since been awarded four different instances of Reddit Gold for his contributions to the Fallout community. Essentially the map provides top-tier navigation for gamers who don't have or don't plan to buy Prima's guidebook.
The Redditor admits he used IGN's insanely detailed interactive map in order to plot major locations of the Commonwealth. But IGN's map was crafted by multiple community members and represents a massive undertaking with a whole team of people, whereas this colorful map was created by just a single person.
As I personally pieced together map sections from Fallout 4's in-game Pip-Boy to make our bobblehead guide, I can say that map-making is quite tedious and challenging. Personally I've been using this map on a companion tablet and it's been working quite well. The Prima guide is quite exceptionally well-crafted, but this colorful and detailed graph works immensely well and points you in the right direction every time.
Related Tags