NVIDIA's NVS 810 digital signage video card handles 8 x 4K displays
NVIDIA's new NVS 810 digital signage video card can handle up to 8 x 4K displays.

Published Wed, Nov 4 2015 11:02 PM CST
|
Updated Tue, Nov 3 2020 12:03 PM CST
NVIDIA doesn't just release video cards for gaming you know? Yeah, we thought so - but check out their latest NVS 810 video card, which has an insane 8 x mini DisplayPort outputs - each capable of taking 4K displays at 30Hz each.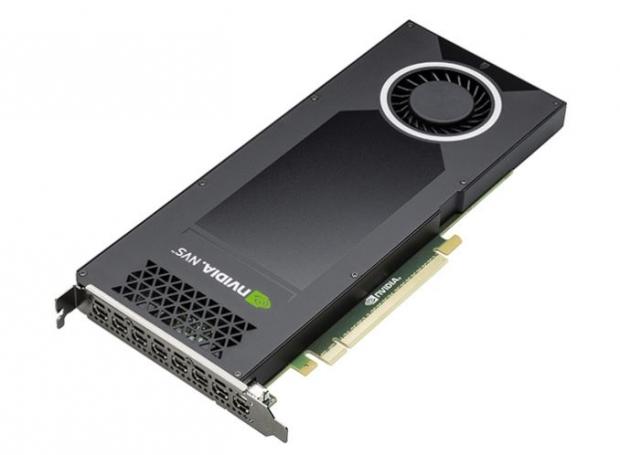 If the 8 x 4K @ 30Hz was a bit too much and you needed some 60Hz display action, you can knock it down to 4 x 4K at 60Hz. Also, we're not just talking about the normal 4K either - which is 3840x2160, we're talking full 4K - 4096x2160. Each of the miniDP ports on the NVIDIA NVS 810 can handle 4K @ 4096x2160. You can install four of the NVS 810 into a single system for 32 display support... yes, 32 x 4K displays!
The board takes just 68W of power, and is a single slot card for systems where you can have them nice and thin - think display-heavy and digital signage systems. As for what makes the NVS 810 tick, we have 1024 CUDA cores thanks to the use of two GM107 GPUs with 512 CUDA cores on each GPU. There's 4GB of RAM, but NVIDIA doesn't specify if its DDR3 or not.
Using the NVS 810 with NVIDIA's Mosaic display stitching and synchronization technology, you can use multiple NVS 810 cards for huge display setups. The card is expected to be priced between $650 and $750, and should be available soon.
Related Tags